Energy Inspired Art
Sustainable Energy: Today's EnergyWhiz = Clean Energy Future
Name: Arian P. (3rd grade)
Age: 9
Osceola Science STEM Charter School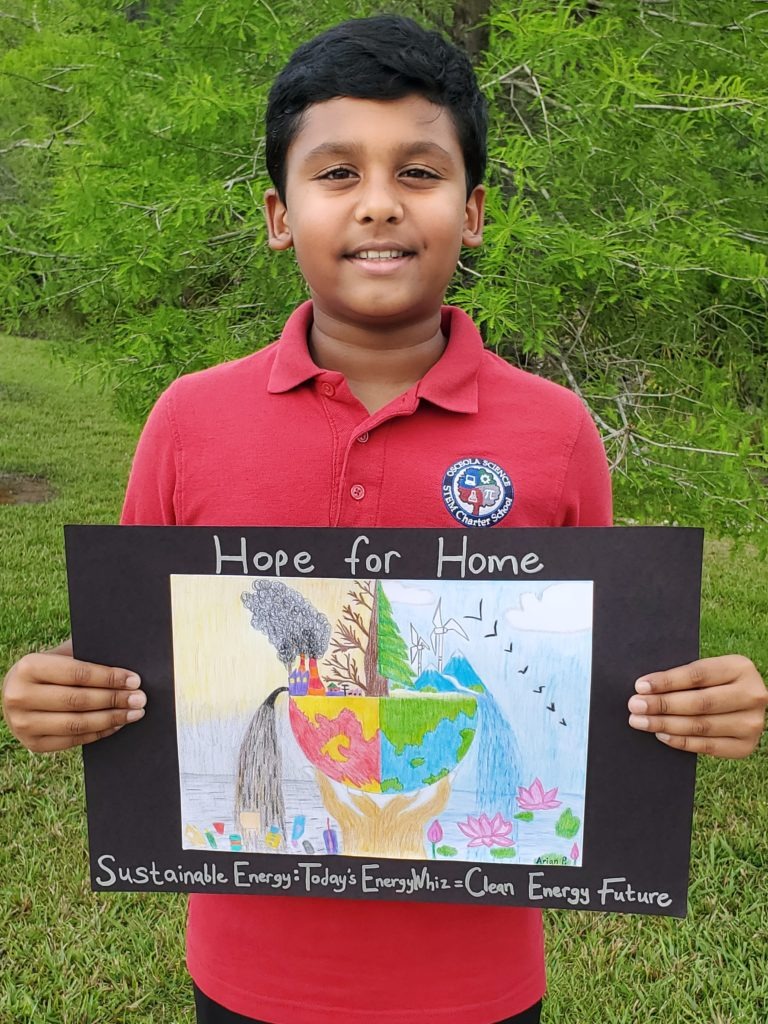 Materials
Camera for pictures and videos
Sketch Pad
Pencil
Eraser
Ruler
Black Construction Paper
Blue Pen
Silver Sharpie
Crayola Coloring Pencils
Sharpener
Recyclable Plastic Lid Cover
Music
Please see links below to view pictures and videos of my Energy Inspired Art Project
https://drive.google.com/drive/folders/1sV_K3g34Y5ivfgNKhrVgsBzzwN3tOJyE?usp=share_link
https://drive.google.com/drive/folders/1s_Clm_PqzOIyU6s2O14iHx1Fh998i3kq?usp=share_link
Description
I was inspired to create this art piece after vacationing in Arizona with my family. While driving alongside the Arizona mountains, I saw so many wind turbines. They looked amazing! They were spinning from the wind and creating energy. WOW!!! In my artwork, there is a clear message of: we can choose our future. The right side of the art shows that hope for the future if everyone chooses to protect our Earth.
We should use renewable resources to help our planet. Kids my age know what renewable resources are and the different types of energy, as we learn this in Science at school. The left side shows what our planet is facing. It makes me sad to see where trash ends up. The pollution is harmful to humans and animals. Global warming can be reduced by sustainable resources.
So, let's choose the right future for all living things!
I really enjoyed working on this art piece because it shares an important message.
We should understand this message as kids, but also as adults to protect our planet. Please look at my wind turbines. They look amazing! I am so proud of them! I tried drawing them similar to the ones in Arizona. I hope you enjoy my Energy Inspired Art as much as I do.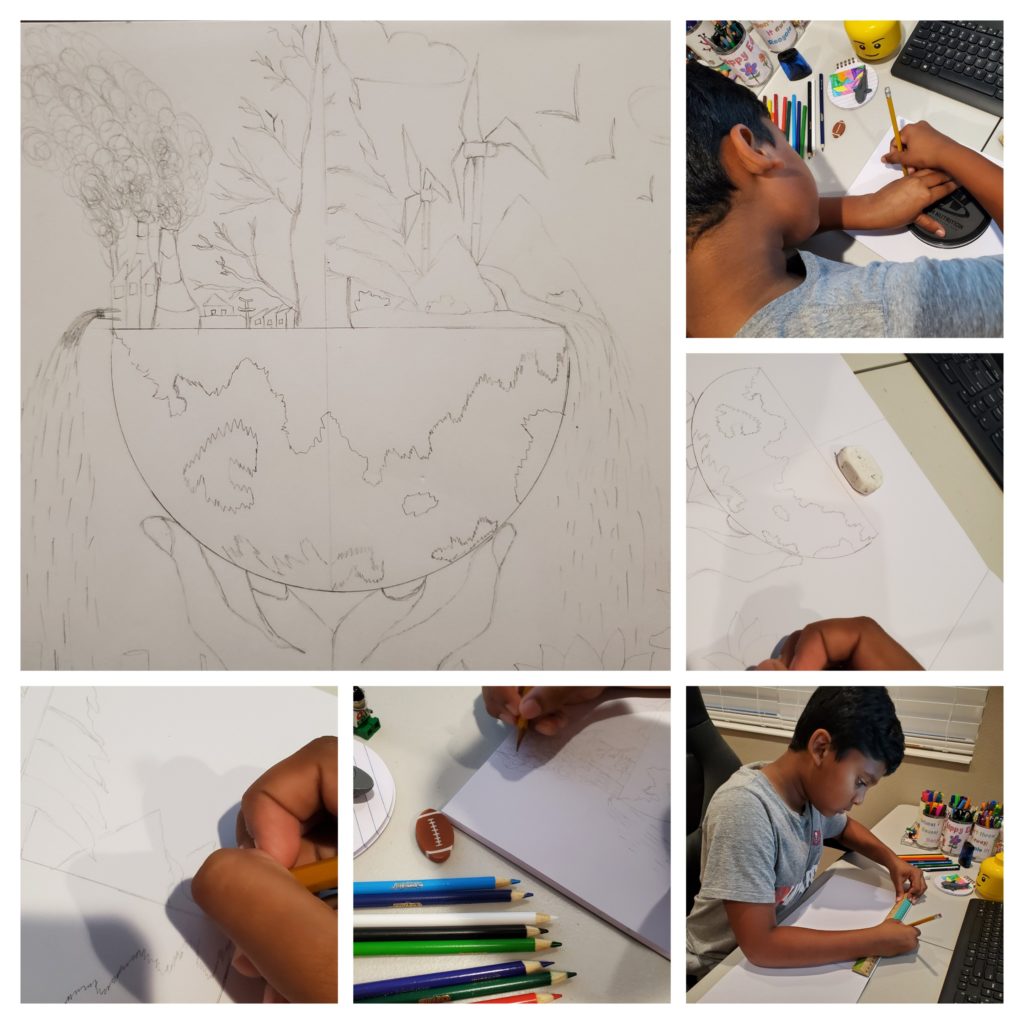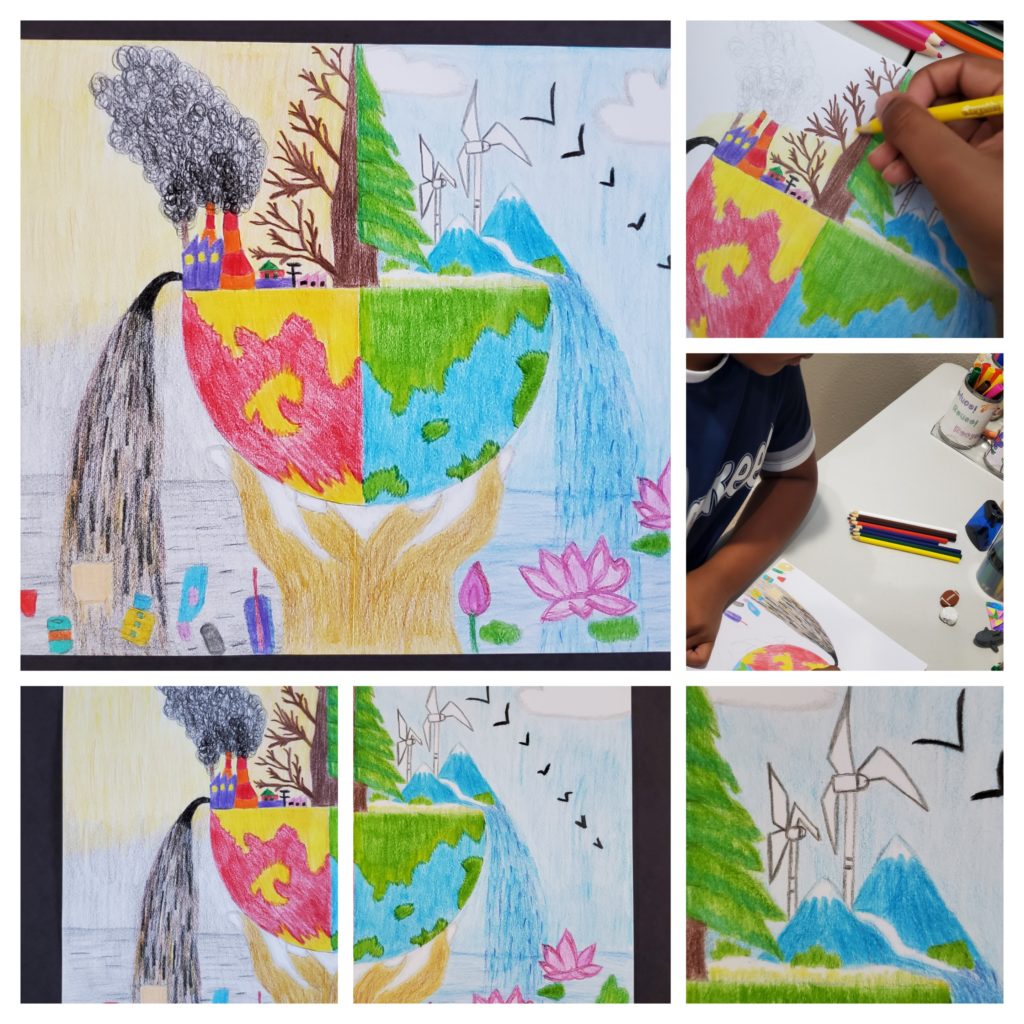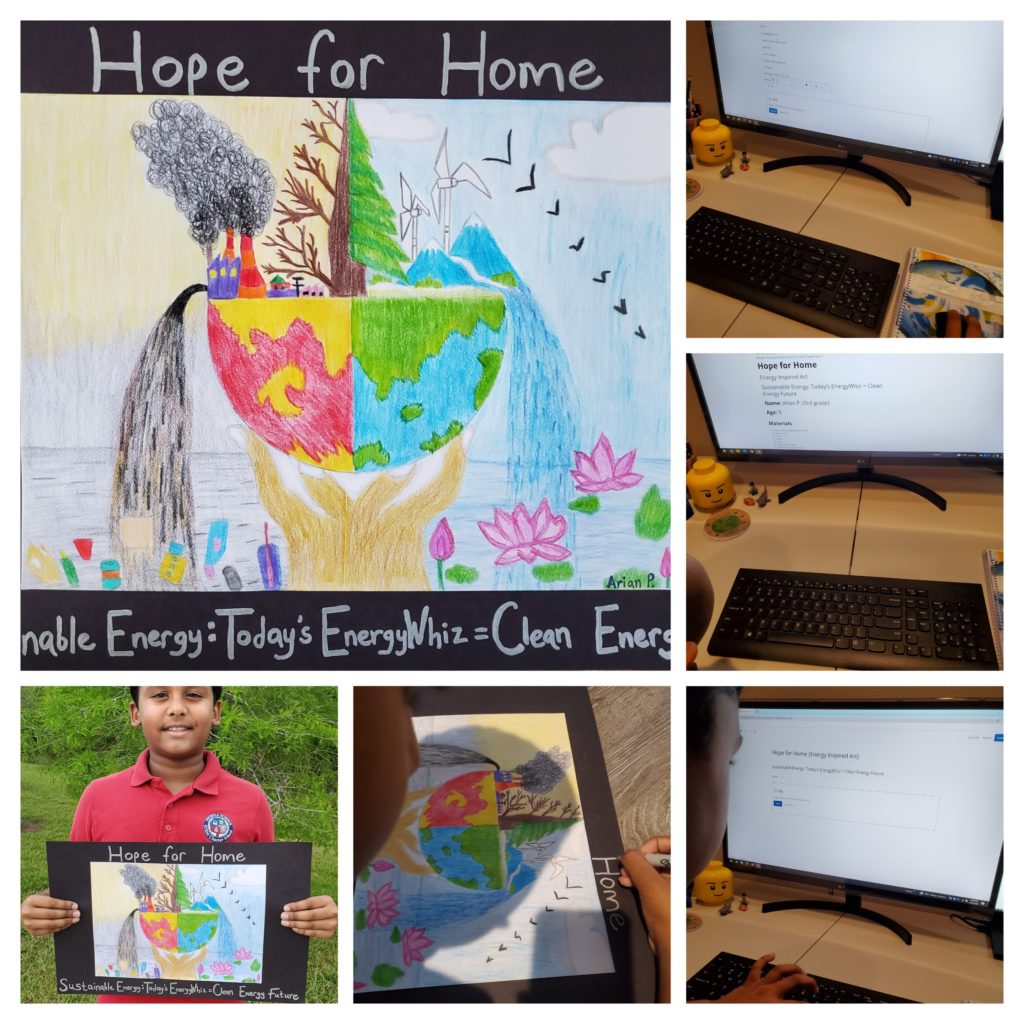 Challenges
A few challenges arose while working on this project. My biggest challenge was time against me. I was meant to attend the Science Olympiad competitions on April 22nd, but it was canceled on April 10th. I wanted to participate with EnergyWhiz starting a long time ago and compete, but it didn't work out with my other commitments. I am glad I was still able to register with EnergyWhiz to compete at Cocoa, FL. I worked on this art piece for many hours after school and my extracurricular activities. Then, I would pick back up after dinner. I enjoy listening to music while working on my art projects.
The hands on my art piece were hard to draw and had to be redrawn a few times. The flowers were also hard for me to draw. I was able to use a recyclable lid cover to trace the half circle out, making something difficult for me much easier.
The other challenge was creating a webpage for the very first time. I had many questions at first, but then I was comfortable and even had fun with it. Thank you to Mrs. Trujillo for showing me. Another thank you goes to EnergyWhiz for challenging me to complete something I have never done before.
Project Video – Please view link below
https://drive.google.com/file/d/1uY_zPfvldrhQzTsUk7KlSA12RG6UzxQp/view?usp=share_link
Please enjoy the following compilation of me working by clicking the link below
https://drive.google.com/file/d/1sR6DbcsLFEJ4UDG8854ZX1N_rwB1vD7c/view?usp=share_link
Acknowledges
Thank you EnergyWhiz!
Thank you to my mom and dad for helping me with staying organized with my schedule.
Thank you to my brother for encouraging me and liking my project. He is young but was able to interpret the message of what is Good Land vs. Bad Land (according to him). Thank you to my teacher, Ms. Mañon for teaching me lessons in class on different energy sources and renewable resources. The Science lessons really helped me to put this artwork together. You are AWESOME!
Thank you to Mrs. Trujillo for your guidance and for introducing me to a creative energy project.
I would like to thank Kissimmee Utility Authority (KUA) for sponsoring the teams at our school for this competition.