SIZZLING SOMBREROS
Chefs: Atiena P. – Sam A. – Piper L. 6th Grade Roosevelt Elementary
Hola! We are the TAG students from Roosevelt Elementary and we decided to form a team for the Solar Cook-Off. We could only work on our projects on Wednesday afternoons so we will describe what we did by months. Sometimes we missed days due to testing or other reasons.
January: We decided to use Mexican-inspired foods. When looking at different types of Solar Ovens, we came upon the idea to use an umbrella as our parabolic oven based on past winning ovens. One of our teachers owns a car wash and had several discarded umbrellas that she donated to us. We then came upon the inspired idea to make the umbrella into a Sombrero, and thus the Sizzling Sombreros were born!
February: We lined the inside of the umbrella with tin foil that was donated by a local restaurant, Tiny Turtle. We found rubber cement was the best type of glue to use. We had tried hot glue guns and white glue but the rubber cement was the best. We painted the umbrella red to emulate a sombrero!
March: We covered a board with foil to use as our base to place the bowls. We had used magnifying glasses in the past to burn our names into wood so we wanted to try using them to heat the food more than just the oven itself. We found that they worked well and used salvaged materials, metal sign holders and a large piece of foam, to place and direct the magnifying glasses onto the food on the board.
April: We put the finishing touches on the painting and also started to do test runs heating foods like marshmallows, chorizo, and chocolate. We made a batch of our Raspberry lemon Green tea and it was delicious!
MATERIALS:
Repurposed Umbrella
Foil
Rubber Cement
Cooking Thermometer
Board
Page magnifiers
Magnifying Glass
Making Our Oven: Our parabolic oven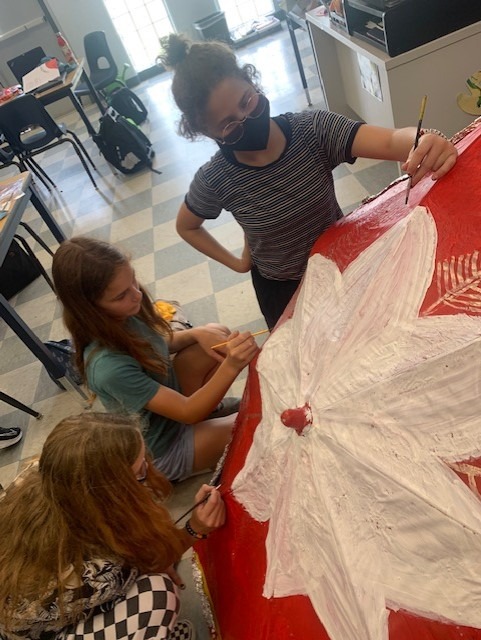 OUR MENU
Choirizo
Seasoned Rice and Black Beans
Black Sun Tea with raspberries and lemon
Rice Pudding