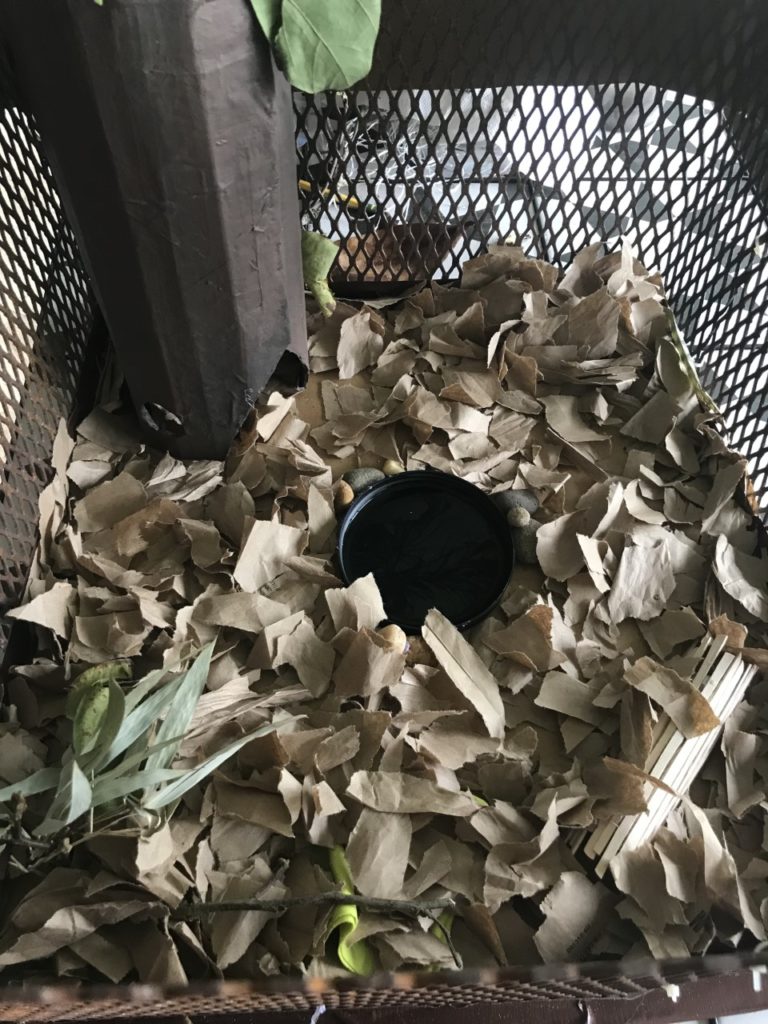 Critter Test:
When we put the snake into the habitat it didn't react for the first couple of minutes but after a while it started moving and going into all the hiding spots and exploring around. It looked like it liked the place, but we can't be too sure. The snake started to slow down after a while and stated to hide in the bedding.
Challenges:
While building the cottage the sides of the cage were different heights, so we had to use cardboard and zip tie's to make it even. In the end the cardboard helped with the lid to the cage. We had some trouble with the water bowl as almost every thing we tried ended up failing. So in the end we just used an old lid and had rocks glued to the habitat to keep the lid in place.
Construction Materials:
Cardboard (recycled)
Metal (recycled)
Newspaper (recycled)
Toilet Paper Roll (recycled)
Paper Bags (recycled)
Old Rope (recycled)
Glue
Duct Tape
Zip Ties
Leaves (recycled)
Sticks (recycled)
Shirt (recycled)
Extra Info:
While building the cottage/habitat we made sure to keep it light enough for someone to be able to move it easily and to make sure someone wouldn't struggle to move it. We also added the leaves in a way that it is like an extra lock and the leaves can be lifted up so that way you can see your snake friend in there from a top view. The leaves can be taken off and put back easily so you don't have to go through much trouble moving them.
Marketing Techniques:
Stickers
Brochures
Poster
Video
Video:
Pictures: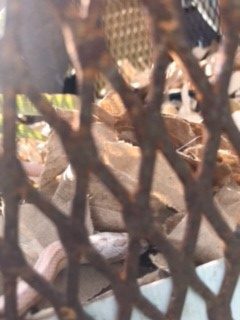 Internet Sites Used:
https://petkeen.com/ghost-corn-snake/
https://reptilesmagazine.com/corn-snake-care-sheet/
https://www.petco.com/content/petco/PetcoStore/en_US/pet-services/resource-center/caresheets/corn-snake.html
Power Tools Used:
Help Received:
Edward S. – Power Tools
Soul S. – Model for photos
Jeff H. – Printing
Laney S. – Video
Lucy S. – Video
Paulette S. – Heating Pad Pouch
Elodie R. – Video Editing
Project Log:
4/8/22- OR and RS researched and assigned jobs to split up the work
4/8/22- OR and RS started brochure
4/11/22- OR worked on brochure
4/11/22- OR and RS worked on sticker
4/12/22- RS worked on webpage
4/13/22- OR & RS Brainstormed on Design for Cottage
4/15/22- OR & RS started building cottage
4/16/22- OR & RS worked on building cottage and took pictures
4/17/22- OR worked on design for poster
4/22/22- OR & RS worked on webpage
4/22/22- OR worked on brochure and poster
4/23/22- OR and RS finished cottage and worked on video and poster
4/24/22- OR finished editing video
4/24/22- OR & RS finished webpage
Team Members: Ophelie R. , Raven S.
Grade Level: 7th
School: Milwee Middle School
Team Name: Slither Cottage
Type of Animal: Snake