Rodgers MS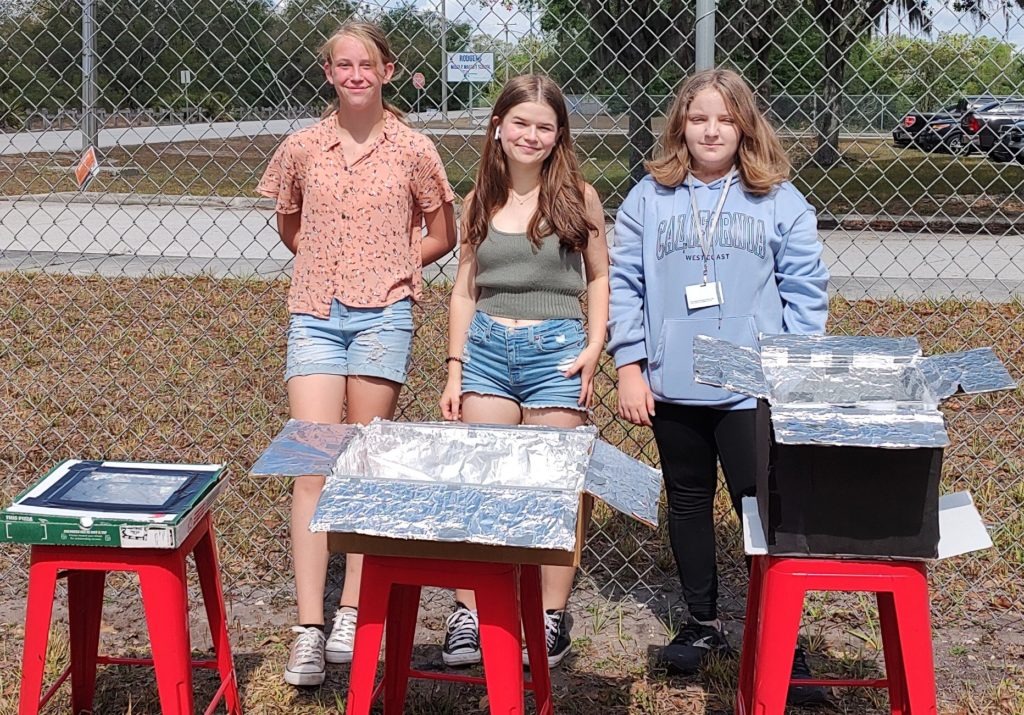 Our team Red Rays has worked tirelessly on our solar ovens. We plan to cook smores, fruit kabobs, and banana oat bars! We have 3 ovens all with a different design to make sure our foods are being cooked perfectly. Our members, Allison , Reese, and Alora. Find our menu below.
MENU:
Appetizer: Banna Oat Bars *Does NOT Contain gluten, dairy, egg, dyes, or added sugar.
Ingredients: 3 ripe bananas, mashed, 4 oz unsweetened applesauce, 2 cups quick oats, 1/4 cup unsweetened almond milk [or milk], 1/ 4 cup raisins, 1tsp vanilla, 1 tsp cinnamon
For Glaze [optional]
Ingredients: 1 cup powdered sugar, 2 TBSP almond milk [or milk]
Entree: Fruit Kabobs *Does contain Fruit [cherries, pineapple, apples] honey, and cinnamon.
Ingredients: Apple chunks, Pineapple chunks, maraschino cherries, 1/4 cup of honey, 1/4 tsp of cinnamon
Dessert: Smores *Does contain: gelatin, milk, and gluten.
Ingredients: Graham crackers, Large marshmallow, plain chocolate [thin]
We have three different ovens because everyone of our dishes has different needs. The pizza box like oven is for cooking our desert (smores!). The pizza box was recommended for cooking dishes like smores multiple times. Then next box (pictured in the middle) is for cooking our entree, fruit kabobs. The box will have a design where we can just poke the skewers through the box. The last and final box, we are going to be cooking our appetizer, banana oat bars. This is because this box attracts the most heat and this dish requires the most heat.