🏠🐦🐇🐥
Critter Comfort Cottage Project
Team Name: Energizers
Team Members: Arian P. (3rd), Robert R. (4th), and Joseph F. (5th)
Habitat Animals: Bunnies, Chicks, and a bird. (Toy version pets for this project display)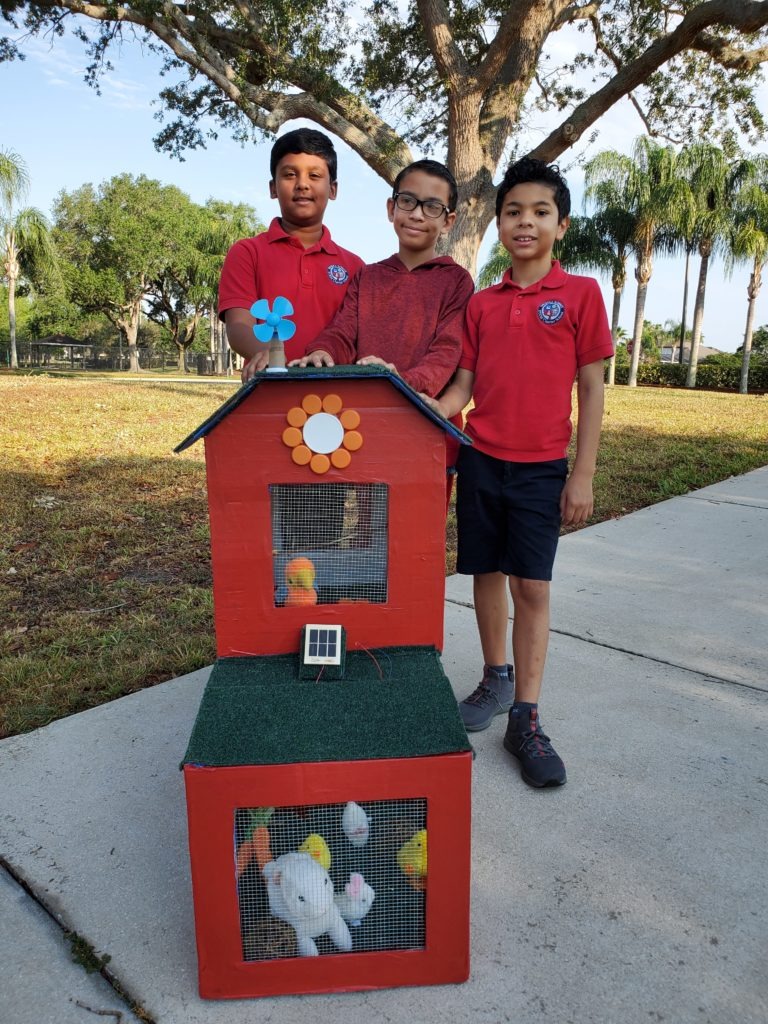 Materials
We started by gathering materials needed for our Critter Comfort Cottage project. The following is a list of materials needed to create Cuddle Sanctuary. Some items were recyclables, some donations, and a few store bought.
Camera to document pictures and videos
Cardboard boxes
Newspaper
Paper Towels
Scissors
Notebook
Pencil
Sharpie
Ruler
Measuring Tape
Stanley Knife
Computer
Black Tape
Scotch Blue Tape – $7.88
Non-Toxic Silicone Glue Sticks – $1.25
Non-VOC Eco Friendly Paint
Paint Brushes
Cable Ties
Wire Cutters
Staple Gun
Artificial Turf made of Recycled Natural Materials – $10.50
Cyclonic Mesh – $14.68
Pipe Cleaners
Hair Dryer
Recycled Plastic Bottles
Non edible carrots and food items for display
Water for the pets
Door Lock
Batteries
Velcro
Solar Panel
Solar powered light
Solar powered fan
Toy Bunnies – $5.98
Toy Chicks – $2.50
Plush Bird and Rabbit
Play toys for the pets
CLICK ON LINK TO VIEW MORE PICTURES AND VIDEOS OF OUR CRITTER COMFORT COTTAGE PROJECT
https://drive.google.com/drive/folders/1wtrY5EtfwM2fX8499fCJENHDfKd7Wv0i?usp=share_link
Cottage Specifications
L= 29 in W= 15.5 in H= 36.5 in
Components of Solar Powered Circuit
Solar Cell
Connector
Leds
Fan
Blades
DC Generator Motor
Components of Wind Powered Circuit
Fan Blades
Connector
DC Generator Motor
Description
Our critter comfort cottage is sustainable, innovative, and resourceful. We chose to build an ECO-friendly safe and enriching habitat for bunnies, chicks, and a bird. The cottage has a solar panel which powers the light and fan. On a cloudy day, wind powered light is provided to the cottage. The DC motor connected in the solar panel helps to convert the electrical solar energy into mechanical energy. This is how the fan turns to provide circulation for the pets. So amazing!
We all love bunnies, chicks, and birds! They are so adorable and pet friendly. Robert on our team has chicks at his house and he loves taking care of them. One day after school, he invited us to his house to show us his chicks and how they are cared for. They were so cute! The cottage we have built is an indoor/outdoor two story home for our furry pals. It is spacious enough for the bunnies, chicks, and birds to be happy and thrive in their environment. Bunnies and chicks are compatible to live with each other. We all agreed on this type of cottage design because it can house more than one type of pet. The bird can live on the second level. The bunnies and chicks can live on the first level. We have food, water, and toys for them. It is well ventilated. The normal temperature for bunnies is 98-102 F. The normal temperature for chicks is 103-107 F. The normal temperature for birds is 106-109 F. We have made a dark area within the cottage where they can sleep. The cottage is safe, secure, and, most importantly, comfortable. The door is able to open and close. We even have a lock for extra security so the bunnies, chicks, and birds don't escape.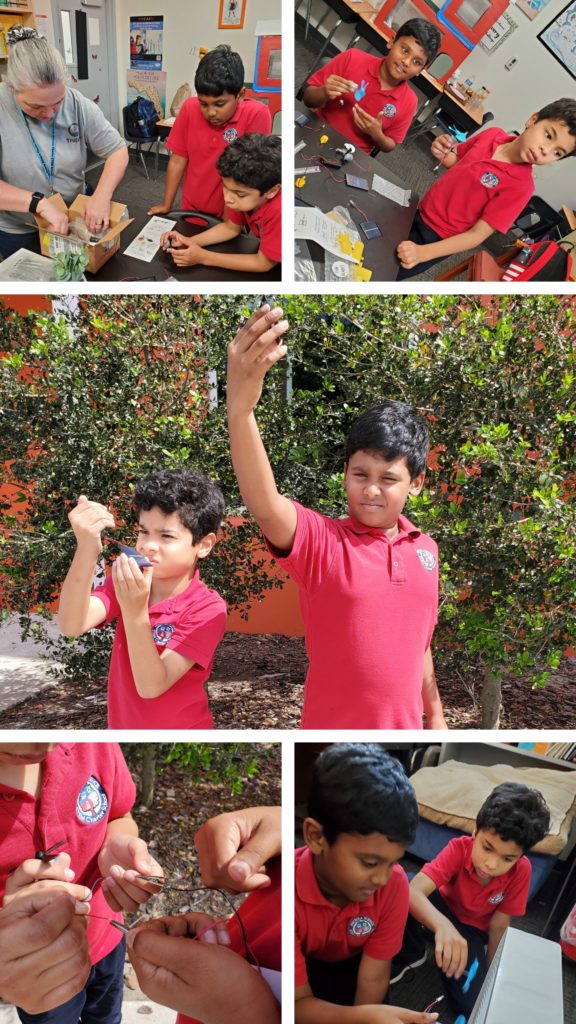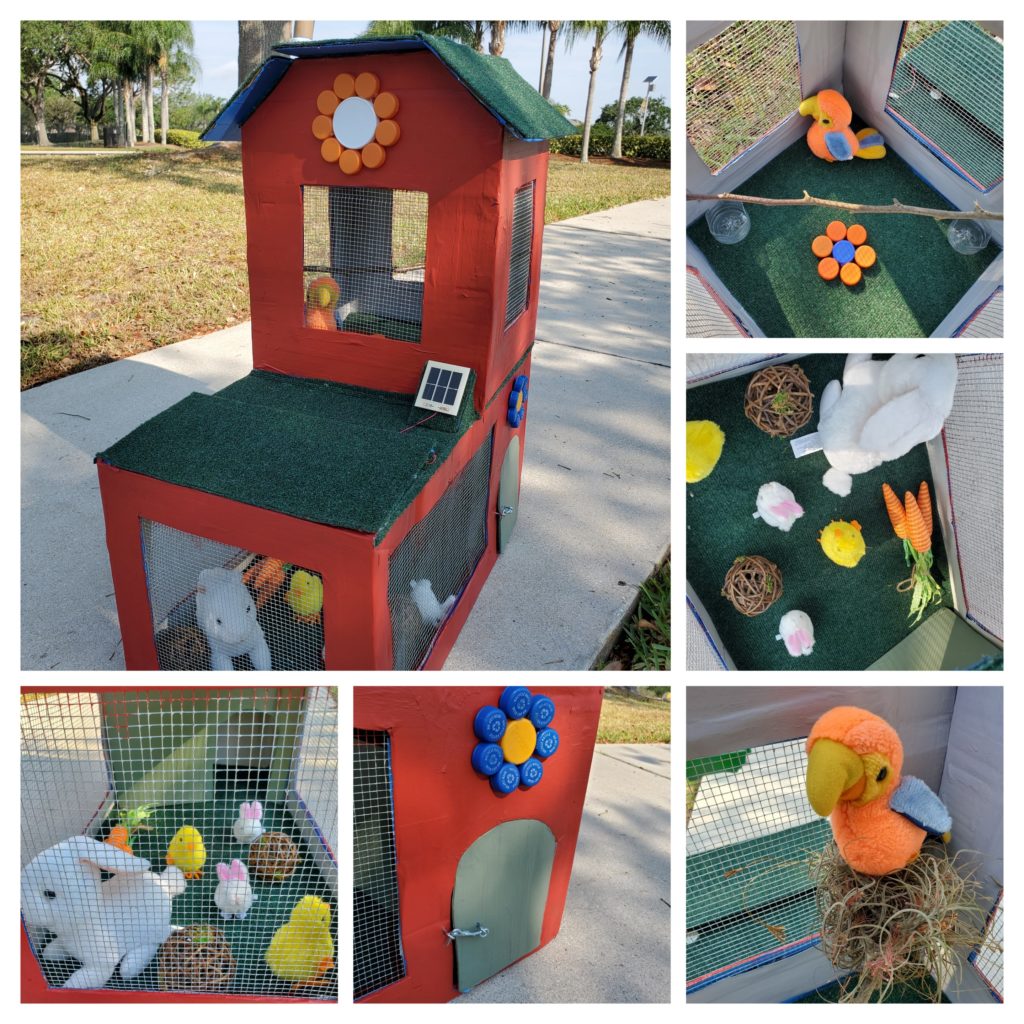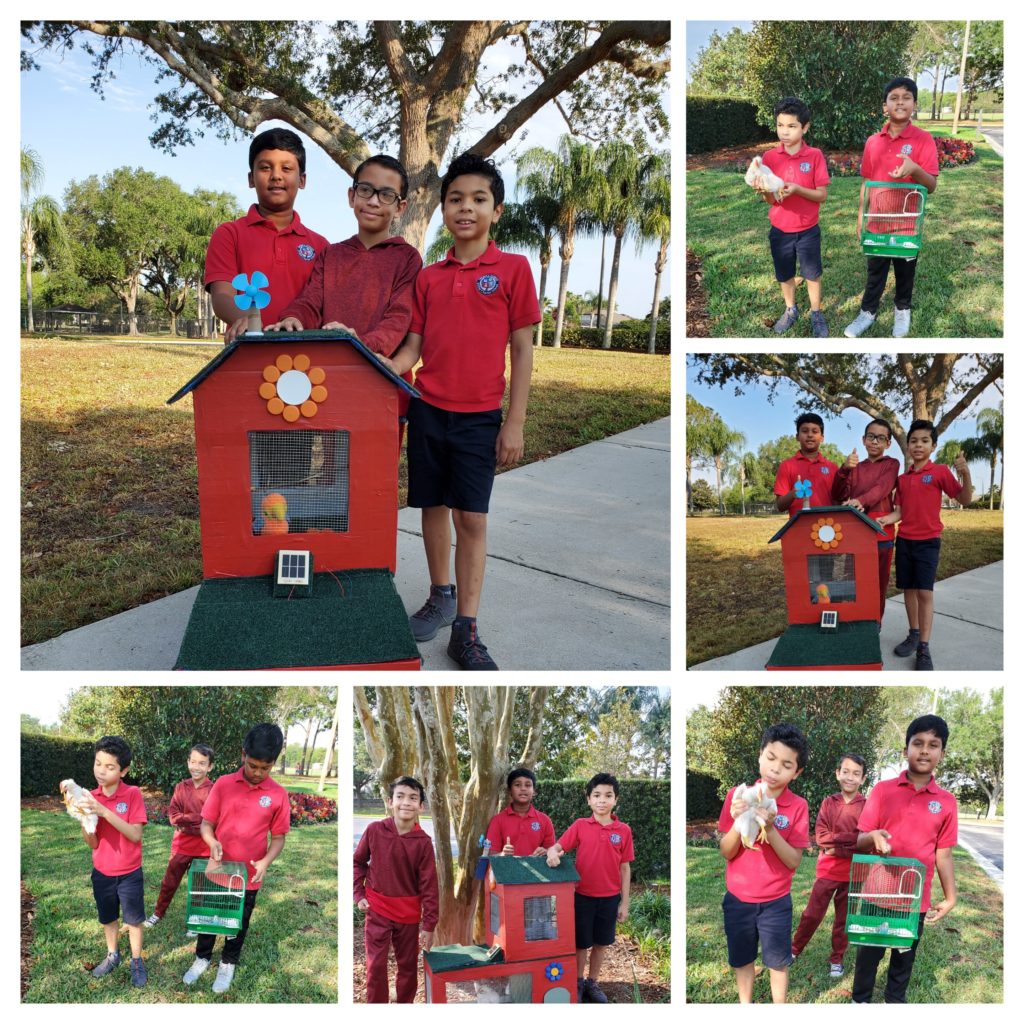 Project Video – Please view link below
https://drive.google.com/file/d/12Dto-nvRmS0kjaU99PqkjGrsZVbjzmwx/view?usp=share_link
Challenges 
A few challenges arose while working on this project. While all three teammates attend the same school, we are in different grade levels, and this was our first time meeting each other. This also applies to our moms. We chose this topic because we love animals. This idea brought us together. It was challenging at first to manage our schedules, but we had a goal in mind to complete a beautiful and reliable space for our animals. We believe our collaboration and dedication helped us to achieve our vision. As we worked on our project everyday after-school and on the weekends, we learned more and more about each other. Now when we see each other at school, we can say hi to one another. We had a hard time cutting the cardboard boxes and cyclonic mesh at times. Another challenge for all of us was learning to create a webpage. We asked many questions on this topic. But, once we started producing the content and filling in the required fields, the creativity flowed. What started out as a challenge became a fun learning experience. EnergyWhiz allowed us to learn how to create a webpage at our young age.
Advertisement
Need the perfect cottage for your FURRY PALS?
*Call Cuddle Sanctuary @ 111-222-3333 for an OASIS experience*
You can own a customized cottage similar to the picture shown on our webpage. Or, if you are planning on going away on vacation, we can care for your bunnies, chicks, and birds in our cuddle sanctuaries for the great price of $50 per night. Enjoy your hotel stay while your pets enjoy their hotel stay!
Cuddle Sanctuary Advertisement Video – Please view link below
https://drive.google.com/file/d/12LiWdZZ2H1LA4A4gbpyKDYL88CKGXb3o/view?usp=share_link
Live Pets in Cuddle Sanctuary Video – Please view link below
https://drive.google.com/file/d/1xw73K76IKZjDoXxh93Cn7UFRlF7T6w5k/view?usp=share_link
Acknowledgments
Thank you EnergyWhiz!
We would like to especially thank our "SUPER MOMS" for their helping hands and time. Thank you for encouraging and motivating us to complete this cause worthy project. Thank you to Mrs. Trujillo for your guidance and for introducing us to innovative projects. We would like to thank Kissimmee Utility Authority (KUA) for sponsoring the teams at our school. Lastly, thank you BOON-dah-learning and FSEC Energy Research Center for providing the Solar Energy materials for our project.