A girl named Lakia Marlin grew up in the small village of Kotohira until she was 9. The day she turns 10, she discovers a bracelet in a beautiful box, and when she opens it, a beautiful snow-white dove appears. Little does she know, it was really a phoenix, and that phoenix can turn into a girl. After about a month of living with Lakia and her mother, Fern, The Phoenix, Feng, decides to take Lakia to Lilac E; Cloudia's sky district.
CREDITS:
Writing: Anabelle M
Drawing: Gianna N
Web page and editing: Ashton W
Some inspiration for this story was our group all liked anime and wanted to write a story because of our fondness for art, writing, and anime. We chose the phoenix because it is associated with the sun and it would represent solar energy. Solar energy is the best energy for our future, it is clean and always present in Florida. Wind energy is also renewable and we think a good option in Florida. It is part of our book.
Information on the writing and art team: All like anime. Ashton is 11 and so is Anabelle, Gianna is 10. We are all in fifth grade at Ocean Breeze Elementary.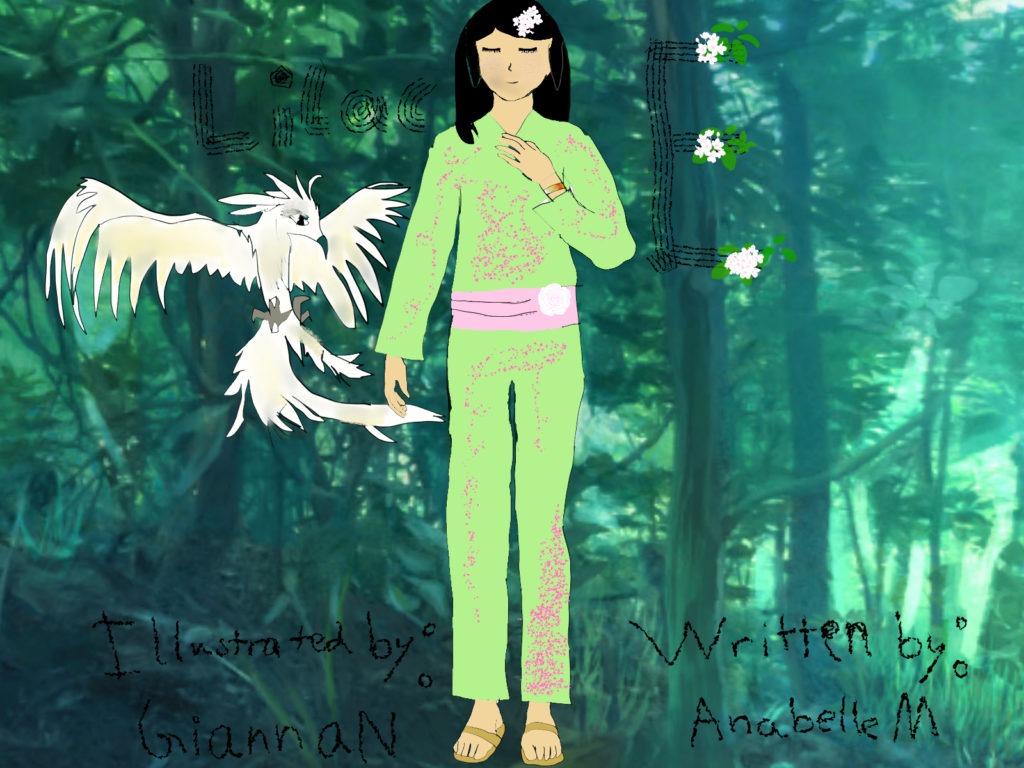 Legend of Phoenix and girl
Character: Laika-chan (la-ke-uh) marlin
Features: black hair, brown eyes, freckles.
Character: Feng-chan(human form)
Features: a red/gold color hair, orange eyes,
Personal traits: bold, brave, adventurous.
Character: fern marlin
Features: blonde hair, green eyes, freckles
Personal traits: kind, loving, helpful, (cherry farmer and artist)
Starts in the past, as she is recalling a moment from when she was 5 years old and she is sitting in her bed, and her mother is telling her the legend of phoenix and girl. It is 1857 and she is moving from her Japanese village in Kotohira on her 10th birthday, she is finally old enough to go explore the island alone. She finds a bracelet that gives her the power to summon a phoenix. When she first summons the phoenix, it has a broken wing, but the phoenix is in a dove form. The phoenix can turn into a human girl, and the two become best friends. She longs to visit an amazing island. The phoenix decides to take her to Lilac E, an island in the sky district of cloudia. The citizens are dragons and other phoenixes. She then discovers the amazing secrets of the future of energy and renewable energy while trying to save the land. (end recap)
Chapter 1
All those years ago
Lakia-chan's mother, Fern, spoke softly to her as she told her her favorite legend, Legend of Phoenix and Girl. "A long time ago, there was a girl named Oracle. One day, as she was exploring the forest behind her house, full of lush green trees and miles and miles of forest, she found a box that was half-covered in dirt and leaves," she said. "When she opened it, she discovered a ring that was rose gold, covered in diamonds that sparkled like stars in the night sky."
As Lakia-chan watched her mother tell her about Oracle, she noticed that her hair was glowing a bright golden blonde, and she had a sort of] sparkle in her eyes like she was happy to be telling her daughter this story again. "Now," Fern said, "Get some sleep! Tomorrow is the big day!" Lakia blew out the oil lamp and drifted off to sleep, dreaming of cherry blossoms in the sky.
The next morning, they jumped into the carriage and got on a ferry to their destination, a remote cherry blossom island. When they finally reached their destination after a full day of traveling, Lakia got off the ferry. "Mother, this island is beautiful!" Lakia exclaimed. "Can I explore around by myself?"
"No, not until you're 10 years old, it could be dangerous," said Fern sternly. "Now, it's time for bed, we've been traveling all day long." After she drifted off to sleep, Lakia fell off the bed and onto the carpet. Fern had to go into her room and put her back in her bed.
Lakia-Chan woke up to find that she had rolled off her bed again. She saw balloons on the floor and remembered that this was the day she had been waiting since she moved to the island. Today was her 10th birthday which meant she finally got to explore the island on her own! She threw on her favorite kimono and rushed outside to find her mother, Fern, pulling weeds out of the ground in her prized butterfly garden.
"Mother," she asked, "do you remember what day it is?" "Yes," replied Fern, "It is your birthday. I know what you are going to ask. Go ahead and have some fun! I'm sure you will find something cool to add to our collection! I will be in my art room trying to search for inspiration if I'm not in the garden." Lakia ran inside, put some food in her basket, and headed outside to explore the island and the forest. She loved flowers, so she climbed the trees with the most blossoms. She thought that the blossoms looked delightful, so when her basket was full she went back to her house and put them in her mother's studio as a surprise for her.
After she put the flowers in her vase, she went outside to the garden. "What type of flowers are those mother? They look very beautiful!" she said. She chatted with her mother for a while before she went back to the forest.
Lakia climbed the tree to her playhouse at the top of the tree when she saw something wedged between two branches by the ladder. It was a small brown wooden box with white embroidered edges. She grabbed it, took it up to the top of her treehouse, and opened it. When she did, a blinding light shone through as it had been closed for hundreds of years, but it collected all of the rays of sun that touched the box. The item inside was a small bracelet that changed colors from white to gold to red and orange. It was one of those bracelets that wrapped around your wrist and almost fully connected but not quite. On the ends, there was a feather design.
CHAPTER 2
Lakia slipped on the beautiful bracelet, which fit perfectly. Suddenly, it began to glow and sparkle brightly; so brightly that Lakia had to avert her eyes. Otherwise, she was afraid she would be blinded. Right as she turned her head back to look at the bracelet, a snow-white dove tried to perch on a branch, but it kept flying downward in an awkward way. Lakia thought something was slightly off. She noticed that the reason it could not fly might be because it had an injured wing and could not fly, so she picked up the charming bird and used some green leaves of the giant oak tree that the treehouse was on, and put them in her weaved bag as a cushion for the bird to sit on. After she carefully put the beautiful white bird and the box in her bag, Lakia climbed down the ladder and cautiously ran back to her small wooded cottage nearby.
When Lakia got home she rested the dove on the table and began to examine the problem. She saw it needed something to keep the wing in place. She took some sticks from around her house and made a splint and cloth for the dove's wing. Lakia kept the dove in her room for a few hours until the dove's wing miraculously healed. Lakia went outside and took off the splint and cloth. The dove and the bracelet glowed brightly yet again. The dove started to take on another form it looked like a giant gold and red bird. Lakia stood in awe: the legend she had loved since she was 3 years old was true, a real red and gold wind phoenix was standing before her.
She started to feel faint like she was dreaming, but that feeling soon went away as the majestic bird looked her in the eyes and addressed her as if she was the bird's friend. She was even more surprised when it started speaking. "Kon'nichiwa, I see you have obtained the bracelet that I have been living with for years after I met Oracle. What is your name, my new best friend?"
"Lakia-Chan Marlin. Who are you, beautiful bird?" she replied. The Phoenix laughed and said, "No need to act like I'm old, Lakia. I'm a young girl like you. Just watch this."
The phoenix started glowing brightly again and shrunk down to the same size as Lakia. The light faded away, leaving a girl with red and gold hair and orange eyes, wearing an incredible kimono that was red with gold specks. "See silly! I'm a phoenix and a girl, too. My name is Feng-Chan."
"Kon'nichiwa Feng. I'm sorry I acted so weirdly towards you, I just thought you were a thirty-year-old mother phoenix. You should come to meet Mother; I think she would like you! Then I can show you around—We can play in my room, explore around the island together, see my treehouse-"
"Wow, slow down. Let's just take it one step at a time. How about we start by meeting your Mother?"
"Oh yes, I completely forgot! I just get caught up in the things we could do. You see, I haven't socialized with anyone since I was five years old and we moved here. Now we must go before dusk, I don't think I'm allowed to stay out after."
Lakia and Feng arrived at Lakia's house just before dusk had fallen. "Mother?" Lakia called when they got home. Fern was not in either of the places she said she would be. When Lakia looked upstairs, she saw Fern lying in her bed, unconscious. She knew something had to have been wrong because usually she only ever goes to bed after 10:00. Lakia felt her Mothers' head and noticed she had an amazingly high fever.
"What in the world? How can someone even have a fever this high? Her forehead feels like an oven!" Lakia exclaimed. "Calm down," Feng replied, "I got something that will help. Go get me a mortar and pestle, 1 bowl and a spoon, twelve cherry blossom flowers, a handful of grass, water, and honey, Ok?" Lakia shot out of the room in record time and grabbed the bowl, spoon, mortar, pestle, and water, then she dashed outside to get the blossoms and grass. She sprinted back up to the bedroom and set all the items on the nightstand. Feng-Chan hurried over to it and immediately poured in the water and honey, but along with it, she sprinkled a teaspoon of sparkling dust. She then added the grass and mashed it up, put in the cherry blossoms, and mashed those too. She poured it into the bowl went back over to the bed and opened Fern's mouth, slowly pouring in one spoonful. She waited twenty seconds before another, but this time she did two. Lakia-chan started to get nervous after a minute or two, but then Fern slowly opened her eyes. She then sat up.
"Mother, you scared me to death!" Fern smiled and laughed. "What happened? Why was your forehead so hot?" Lakia asked. "Honestly, I don't even remember," Feng replied confused. "That's strange."
"I feel fine though."
"Really? You don't remember anything?"
"Nope. Nothing after I was in my art room painting. Who is this?" she pointed to Feng. "Oh, this is Feng-Chan!" she answered. "Mother, meet Feng, Feng meet Fern."
"It's nice to meet you, Feng!" Fern said. "Except, may I ask how you got here? We are the only ones on this island for a 6-mile radius."
"Oh, it's a long story. It will probably take all night to explain it." Feng sighed.
"What time is it?" Fern asked Lakia.
"It's around 7:30 right now."
"There's no way I was out for that long!"
"Does seem kinda strange though. Having a high fever and then waking up not remembering anything." Feng noted. Both Fern and Lakia nodded in agreement.
Chapter 3
Longing for something new
Feng had been living with Lakia and Fern for about a month. It was a very rainy day on the 14th of April and Lakia was staring out the window daydreaming about a new place to be; a new place to explore. Feng had been watching Lakia stare into the distance and knew what she was thinking. "She wants to explore another place, I know the perfect thing to do."Lakia spent the rest of the day playing with her toys in her room and cooking with Fern. The next day was a clear sky and bright sun, a perfect day for Feng's plan. Lakia was sitting outside in her treehouse meditating under the oak trees shading leaves. "Lakia I know you have been dreaming to explore and you have helped me so much by giving me a place to stay. Because of this, I will grant your wish, and once again thank you for this." Suddenly the dazzling gleam occurred again and Feng turned back into the white and gold phoenix she was before. "Now hop on my back and I will take you to my favorite place, Cloudia's Sky District Lilac E." Feng ran as fast as a cheetah, flapped her wings, and rose to the sky. The ride was very bumpy and Lakia needed to adjust her kimono often, they soon flew above the clouds. It almost felt like they would go to space, but just before Feng dived at full speed into a giant cloud. Lakia opened her eyes and felt weightless. She had arrived at Lilac E.
Lilac E. was a beautiful place, with clouds that looked like they were made of fluffy snow. She noticed that there were little sparks of energy in them if you looked closely. "That's how we get our energy." Feng said and nodded over to the sparking clouds. She continued, we collect the electricity from the thunderstorms that pass through. As they walked through the city Liakia noticed the floor felt like a trampoline, she bounced at every step she took. Soon they had arrived at a factory. The people who greeted them looked like they were from the future, but Liakia did not notice. One lady who had lots of red hair introduced herself as Christa, she explained that when she grew up in the real world she would be a teacher and an astronaut.
Christa had 5 other friends named Ellison, Judith, Gregory, Ronald, and Michael. As they walked through the factory there were 3d projectors that Lakia did not know what it was and tried to touch it but her hand flew right through. That pretty much freaked her out but Christa reassured her." Don't worry that is a projector you don't know what that is yet but it makes things look like they are there, that for example is a dam it holds back water and that wheel in the middle is a water wheel all the force of the water trying to break the dam flows to here and pushes very hard to create energy in the future".
They walked to the next exhibit and Christa showed her a field of tall fanlike structures."These are called wind turbines. The wind pushes the turbines and causes them to spin and create what's called wind energy. They finally walked to the last projector and saw nothing."Liakia this has not been thought of yet and all the people think you will imagine this projector's image" .Lakia then asked Christa,"Who are you anyway?" Christa replied,"We are the six victims from the Challenger shuttle disaster, but of course that has not happened yet we don't even exist"!Even though they had a fun time talking about their lives Liakia was told there was an evil sorcerer trying to enslave the land so she needed to go.
Chapter 4
A New Beginning for Lilac E
Liakia and Feng walked out of the facility and saw that some storm clouds were coming so they ran into a small town house and sat on the porch. Feng turned back to a girl again because she loved the rain as a girl, but as a phoenix she hated the rain. True it was beautiful in her opinion but since she was a phoenix it burned like it was acidic water. Suddenly lightning shot from the sky and made them go blind for a split second and a wizard with a witch came out of the sky and walked toward them. "Lakia ran inside and got away and didn't let them get to you!"Feng yelled, as a bright light came through her ." Run go leave!" Lakia jumped up and ran through the door only to find a very quiet and calm house with a cotton ball farmer standing in front of the door. He had a long straw mustache, googly eyes, a very small set of overalls, and a straw hat. The farmer picked Lakia up murmuring something in meeps and threw her in the closet and gestured to stay and hide.
Lakia saw him run at lightning speed grabbing everything he owned and put it next to the closet, slammed the door, and stuffed all the stuff in front of the closet. She hears him go and stuff himself into the storage area under his staircase. Lakia heard some thrashing and some explosions and everything was silent, then a screech was heard and a blinding light shone through even the small crack Lakia was looking through. The door was then broken down revealing a Feng as a super rage phoenix in her final form, some other people were fighting too Beethoven, Mozart and Alexander the great. You could hear the farmer screaming "MEEEEEEP MEEEEP!!!!!"
When the sorcerer realized that he and the witch were outnumbered he disappeared. Feng said "thanks for the help everyone, I think we can leave now.". Beethoven and Mozart stated "ve need to get vack to our verk!" Alexander bolted out of the room just as Feng opened the wardrobe door. The farmer crawled out of the staircase and looked like he had been squished, he then walked up to Feng and said. " Meep me Meep Meep Meep me me me Meeeeeeep". Feng then responded " Sorry Phil for barging in but thanks for keeping Lakia safe while I did my business. Lakia it is time to see our house we are staying in, come along."
Lakia then noticed that she felt like something was wrong and felt that she had an itch, and went to it and noticed there was something furry there. So she took out her pocket mirror and noticed she had ears white and red tips with three red stripes on each side of her face. "AHHHHH" she screamed, "I think i'm turning into a fox"! Feng then noticed she was growing multiple tails and exclaimed "we need to reverse this curse or you will be vulnerable!"Feng then turned back to a human girl and ran through the crowd with Lakia on her back, soon they had arrived at this fort with stars studded on the ceiling.
Chapter 5
The Final Trials
Feng was as scared as ever, her friend was cursed and did not have any idea how to reverse it and decided to try. By then Lakia was unconscious along with already having already full grown a tail, fox ears, and slowly was growing paws, Feng then used an ancient ritual that only phoenixes had known and started a mystical gold/green light that filled the room with a big flash. Then everything was quiet, Liakia then opened her eyes and started losing the paws, she then asked "where am I? I dreamed I was seeing bright stars in the night sky and soon they were dark, there was not a light in the sky."Feng then replied "we need to prepare for what's next, the dark shadow is back again and if we don't prepare your dream could come true!"
Meanwhile in the household of Phil the cotton ball farmer, his twin brothers Rock and Roll were over for dinner. They lived in Hydrainia another cloud district that was on the other side of Cloudia so they did not get to visit often and only got to see their brother Phil twice a year.They had just mentioned that their sister had just got married and is pregnant with a little boy that is going to be made of black cotton instead of white! Phil then mentioned that that was the first one born into a white family in 600 years!Ding Dong! Was the sound the doorbell made, and Phil is polite so he excused himself from the table and went to answer the door. He came out and looked outside, as he shut the door and looked beyond the porch a rope of darkness caught him and brought him to the evil sorcerer. "MEEEEEEEEEP MEEEEEEEEEEEP MEEEEEEEEEEP!" He yelled as he tried to break free, he was then taken into a dark portal and placed in a dark room he then lost track of his mind and that's all he remembers.
Lakia and Feng formed a plan to defeat the wizard and got to work, lots of people helped to build the structure when it was done, the tall amplifier was very attracting. Lakia was told to hold a very light copper lighting rod that was about as tall as herself . Soon after Rock and Roll bounded over and explained that Phil had been kidnapped by someone who they think is the sorcerer. Now Liakia was as mad as ever and was ready to battle who she needed to, she remembered that Phil was kind enough to let her into his house to save her from her death! Now it was her turn to do the right thing and save him from her arch-nemisis Darktrough.
Suddenly the sky became cloudy and a thunderstorm came from nowhere, Lakia did what she practiced and hid inside the amp. "Where are you sweet little girl I won't hurt you or your phoenix friend just come out and we can be friends." "No I doubt it, you came to capture me too, now give back Phil!" She then raised her lightning rod and from the horrible thunderstorm lighting immediately shot onto it and miraculously without hurting Lakia magically super energized her. She then ran and jumped off the amplifier and pulled the rod back to hit the sorcerer in which she did! " HIEEEEEEEEEYAAAAAAAAAAAA!!!!" She yelled as she hit the sorcerer right on target just as Lakia had practiced. Then Feng's friend Heat the flame dragon who lived in a volcano came in and Feng with her wind and Heat with fire attacked the sorcerer with fire, along with wind to fuel the fire. They soon, along with lots of pushing from the cotton ball people, had knocked off Darktrough and he was dangling from a hand on the cloud. Lakia walked up to him and explained "this is for all of the justice for Cloudia!!" And without skipping a beat stomped on his hand and he fell thousands of miles to the ground of the Earth. Phil was then staring mindlessly ahead of him then it shattered and the possession was gone. Lakia could also feel her curse slowly fading away, she was in awe and she gave Phil a hug. We don't know how he felt but we think he felt good about that.
There was a moment of silence as everyone stared in amazement and soon everyone leaped in union and they all cheered as Feng and Lakia flew through the crowd as did some stunts such as loopty loops and barrel rolls. They then darted right toward their secret fort and Feng became a girl again and they talked about everything that happened that day. Soon they had discovered that they had stayed there for two day because Lilac E only has night every two days and Feng explained " we have to go, we have stayed here for two days and we need to leave, your mother must be very worried about you being gone." Lakia agreed to Feng's wisdom and decided it was time to leave. When they exited the fort there was a huge parade outside for their heroic acts waiting for them knowing they had to say goodbye. Feng turned back into a phoenix and told Laia to get on her back so that they could leave and get home. As she was doing this Phil, Rock, and Roll pulled off some fluff and gave it to her as a memory of them. Lakia greatly thanked them for it and she would cherish it for her entire life. Feng then took off once again almost going to space and suddenly dived down, yet this time Lakia was not scared and put her hands in the air even as they did loopty loops. Soon they were on the ground and Lakia suddenly became tired, she found three porcelain vases and put one fluff in each vase and soon hurried off to bed, changed to her night clothes, and told Fern why she was gone so long even though no time had gone by. Then she and Feng hurried off to bed to make up for all that time awake without any rest. As she comprehended what her daughter had explained to her she thought most parents would have done it differently but unlike most everyone, she believed her daughters story, and she knew it because she was really Lakia's idol even though no one except Feng knew that she really was that little girl named Orcale playing in the clouds with her best friend Feng the phoenix.
The End