We are Team shooting Stars from the STEM Tech Academy in Melbourne, Florida. We are brothers and this is our second year participating in solar cars, but first year as a team. We have stars on our car to match our name. Our team meets on Saturdays at STEM Tech to work on cool projects like LEGO robotics, 3D printing and Junior Solar Sprint.
Team Members – Rohan D. and Cael C.
Helpers/Mentors – Darrell Thomas, Mike Morrison
Car Design –
Our car has the motor in the front and it turns the front wheels, not the back ones like most cars. A gear is attached to the the wheel and axle. The ratio for our motor and gear is 3 to 1. We are using 3D printed axle guides. Our mentor said it would help to keep it straight. We had some trouble, because we got hot glue inside the axle guide. We had to use tweezers to clean it out. We did see that our back wheels moved slower than they did before. Our mentor helped us do a better job on the front axle. The car is made from foam board and a pieces of egg carton. Our string guide is under our car. It is a piece of a notebook binder. We used parts of an old binder for the string guides.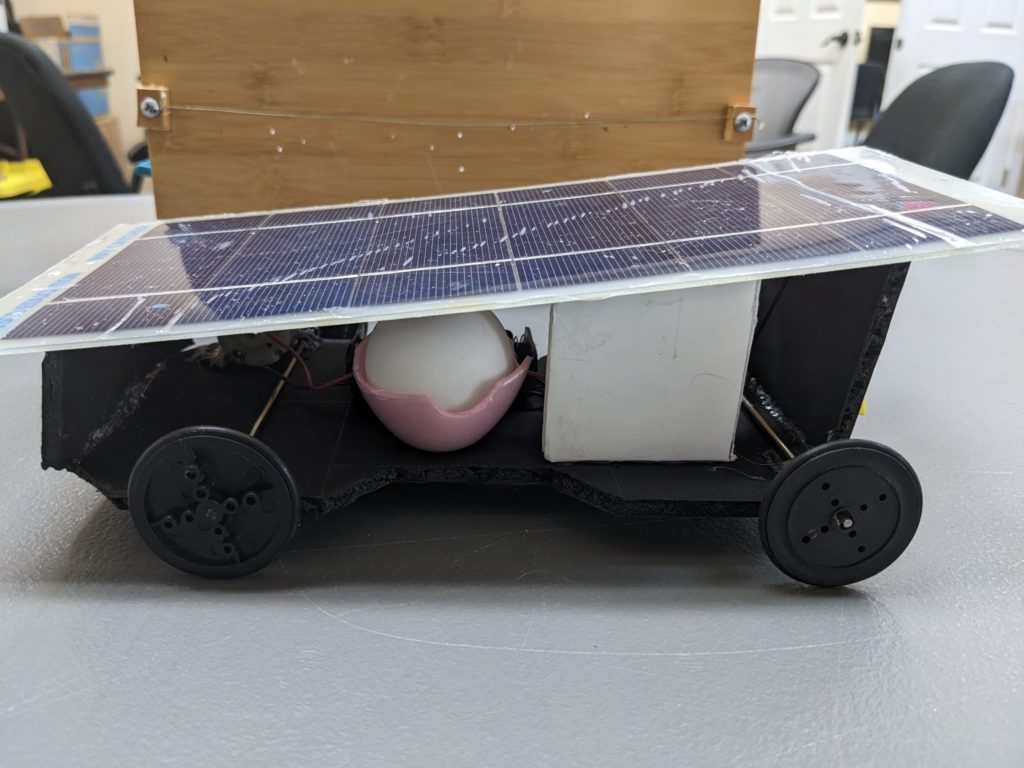 Team Shooting Stars talk about their car –
Car in Motion –
We had a sunny day to test our car in. We started out a little slow. We had to make some change to the velcro for our solar panel. it was too strong and messing up our car. Our best time was 6.6 seconds.