Team Members (all 8th Grade)
Mia F.
Ava G.
Raina F.
Jewels F.
Historixal information:
The Solar Girls won second place in the virtual competition.
We are a proud all-girls team, who love to support one another and hope to further pursue being women in stem throughout the rest of our school career and as we become adults.
The Solar Girls are proud P.C. panthers!
Pinecrest has competed in this competition for over two years now!!
Rexipies: and insttrtuxtions https://docs.google.com/document/d/1fG_2bH3W1F-cCzsL2MmbUQejv-yfQAd71UEPgZjddGw/edit
Our Solar Oven:
Thanks to Mr. Swanson and Ms. Spitalnick for helping us cut the glass! We did the rest of the cutting and building of cardboard and insulation together.
Cooker Design
We looked at a variety of different cookers and one of the main components that we looked for was something that we could build and change to work the best for us.
We chose this type of cooker because there was a very high temperature we could reach and there are a variety of changes we can make to the original design to reach higher temperatures.
This is after we painted our cooker with heat-proof black spray paint to absorb heat

This is right before we were going to add out the tin foil and spray paint

This is the door to open our cooker

This is our spray painting our cooker black to absorb heat
Project Log: Click this link to see our work log.
These websites helped us with the design process:
Testing / Cooking:
The highest temperature we were able to reach was 170ºF and it was the sunniest day we have had to test our cooker.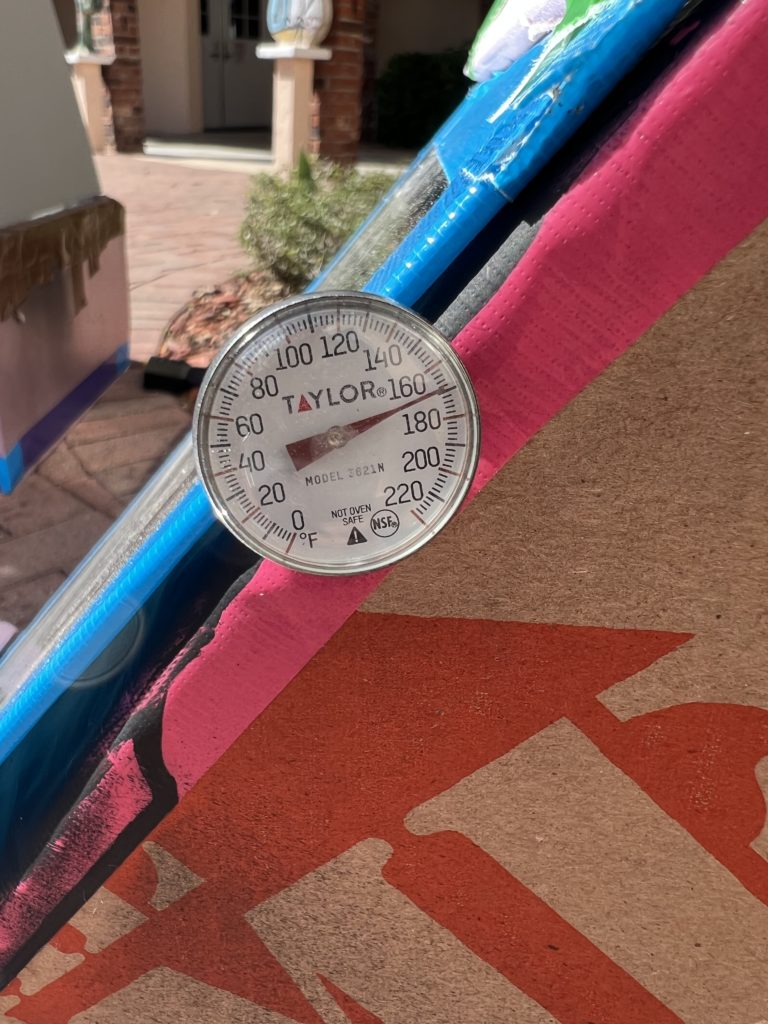 For our first dish, we decided to make a simple piece of salmon, because we knew that it needed to get to a fairly low temperature to cook (140˚F).
Simple Oil Poached Salmon
1/4 cup Olive Oil
Salt
Pepper
1 tsp Dried Oregano
1 Slice Salmon
1 Lemon
Instructions
Place the salmon in a small aluminum pan and sprinkle with salt and pepper.
Cover the salmon with the olive oil and sprinkle the oregano on top.
Slice the lemons and cover the top of the salmon with them. Save remaining lemon to squeeze on top of cooked salmon.
Place in solar oven and cook until internal temperature of the salmon reaches 140˚F.
Squeeze remaining lemon on top and enjoy!
Our Design Video