~Design Process~
Define the Problem- Our problem was that we had to design a solar oven that could allow us to create a meal that included a drink, appetizer, entrée, and a dessert.
Generate Concepts- First our team started brainstorming what food we should cook so we knew how high the temperature needed to get to. Then once we decided on our food, we started researching good insulators. Next, we brainstormed different design ideas for a solar oven.
Develop a Solution- Our team came up with a box solar oven with reflectors coming out of the sides and two foam coolers in the oven to cook the food in. The solar oven also would be raised up by cardboard pipes for heat circulation.
Build and Test Prototype- The reflectors were to small and there was a problem with cooking the food in the coolers because the foam blocked the heat going to the food.
Evaluate Solution- We made the reflectors bigger to collect more heat, the foam coolers were taken out so they wouldn't prevent the most amount of heat possible coming to the food.
Present Solution- Our team will present the solar oven and the food made at Energy Whiz.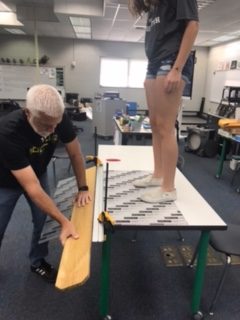 ~Testing~
Highest Temperature Reached: 162°
Time – 4:28 pm
Weather Conditions – Partly cloudy
~Final Oven~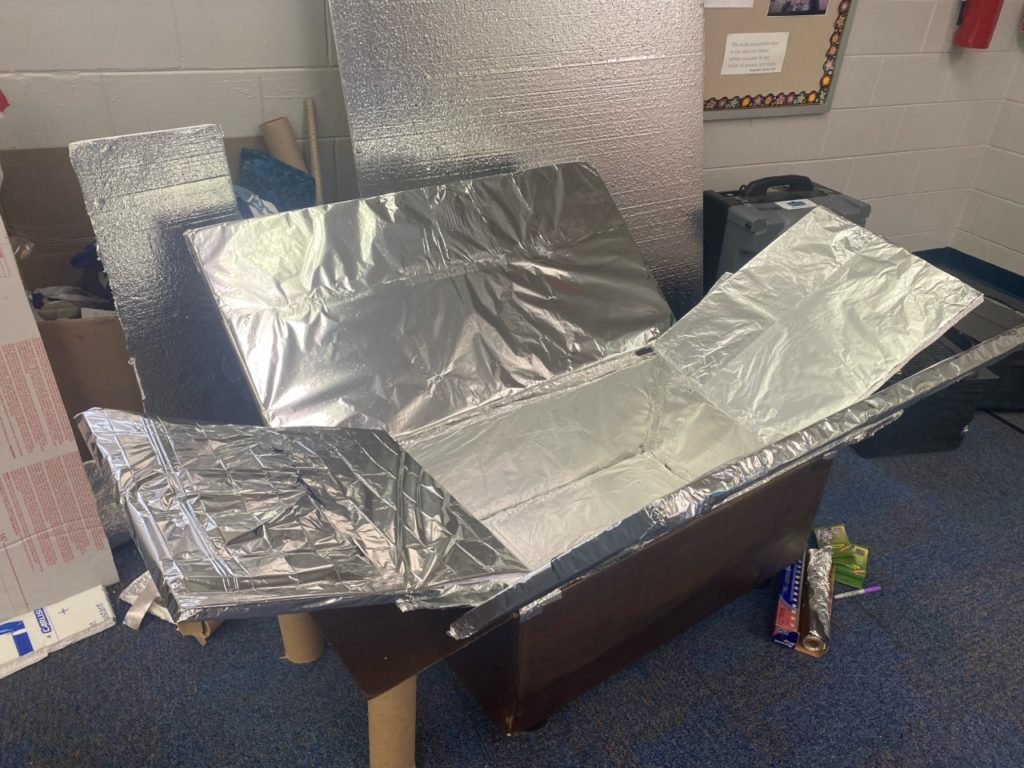 ~Materials Used~
Cardboard (Recycled)
PVC Pipe (Recycled)
Insulation Foam (Recycled)
Plexiglass (Recycled)
Spray Paint
Tin Foil
Cardboard Tubes (Recycled)
Foam (Recycled)
Packing Tape
Insulation Tape
Coolers (Recycled)
Grill Rack (Recycled)
Brick (Recycled)
Elmer's Spray Glue
~Historical Information~
Milwee Middle School has competed in the solar oven competition for 11 years. And have won many awards in every category.
~Help Received~
Mr. Kallin
Helped cut plexiglass
Helped with the angle measures for the reflectors
Gave ideas and critiques
Mrs. Unterreiner
Helped get materials for oven
Gave ideas and critiques
provided space to work
~Homegrown Gardens~
These pictures show some of the ingredients that we will be using that were freshly grown right in our back yards. Some of the produce we will be using from these homegrown gardens are mangos for our Mango lemonade, tomatoes for our salad and the kabobs, also herbs will be used as seasonings and garnishes.
~Team Design Video~
~Menu~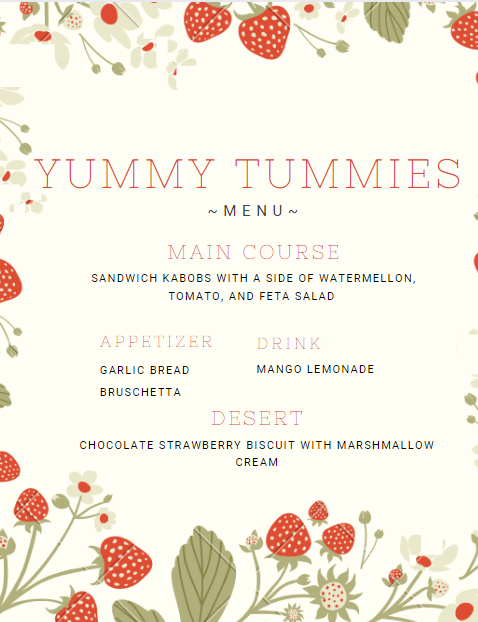 ~Recipes~
Mango Lemonade:
Ingredients:
6 lemons
6 cups of water
1 cup sugar
2 tbsp. of mango syrup (premade at home from scratch)
3/4 cup of white grape juice
3 mangos
1/2 cup of ice
2 tbsp. of sugar
Dehydrated mangos
Directions for Lemonade –
Combine Lemons, 1 cup sugar, and water
Stir and let it sit in the sun until sugar dissolves
Directions for Mango Lemonade –
Cut mangos into small cubes, smash, and juice.
Add dehydrated mango pieces to the bottom of a tall glass, then add ice. Add in grape juice, 1/4 mango juice and mango syrup. Stir well, then serve and enjoy! (Repeat for each of the three cups)
Garlic Bread Bruschetta:
Ingredients for Garlic Bread:
8 tbsp. of salted softened butter
3 large garlic cloves peeled and put through press
½ teaspoon dried oregano
¼ teaspoon red chili flakes
1 loaf Italian bread
¼ teaspoon ground black pepper
¼ teaspoon salt (garlic bread, add more to taste)
Ingredients for Tomato Garnish:
1 pound ripe fresh tomatoes
½ tsp salt (salad topping, add more to taste)
¼ cup finely chopped white onion
2 garlic cloves pressed/minced (salad)
¼ cup fresh basil
Flaky salt
Directions for Garlic Bread –
In a medium bowl, stir together the softened butter, garlic, oregano, chili flakes, and pepper. Taste, adding more salt if you like
Smear each bread slice with garlic butter and place on a baking sheet. Toast under in the solar oven until golden and crisp.
Directions for Tomato Garnish on Top –
Dice your tomatoes and transfer them to a medium mixing bowl, leaving the tomato seeds and juice behind on the cutting board. Stir the salt into the tomatoes, and add the onion, basil and garlic as they are ready. Stir to combine and set the mixture aside to marinate while you work on the bread.
When you're ready to serve, carefully drain off the excess tomato juice that has accumulated in the bowl, using your hand as a stopgap. Add the remaining 2 tablespoons of olive oil. Stir to combine, and season the mixture with additional salt, to taste.
Top each toast with tomato mixture, tipping your spoon against the bowl to release excess juice as necessary. Lightly drizzle a couple of tablespoons of thick balsamic vinegar on top, and sprinkle lightly with flaky salt.
Sandwich Kabobs:
Ingredients:
1 bell peppers
½ yellow onion
1 loaf of Italian bread
Canadian steak seasoning
Steak sauce
8 oz. steak
Directions:
Cut pepper and onion into 1 inch squares
Cut sliced steak pieces in half longways
Cut bread into 1 x 1 x 1 inch cubes
Skewer everything by bread, pepper, onion, meat (fold meat in half and in between meat do pepper, onion, then the other half of the meat), bread, repeat three times.
Put in solar oven until meat is thoroughly cooked and bread is toasted.
When done put skewers on tray; sprinkle Canadian steak seasoning and drizzle the steak sauce.
Watermelon Tomato, and Feta Salad:
Ingredients:
1 (4 pound) child seedless watermelon, cut into about 1-inch cubes
10 cherry tomatoes, seeds and cut into 4ths
1 sweet onion, thinly sliced
1 cups of crumbled feta cheese
3 tablespoons chopped fresh mint
¼ teaspoon of salt
¼ teaspoon of ground black pepper
Directions:
Gently toss the Watermelon, Tomatoes, onions, and feta in a bowl
Then add in the fresh mint, salt, and black pepper and toss in a bowl again until mixed
Chocolate Strawberry Biscuit + Marshmallow Cream:
Ingredients:
3 Strawberries halved
6 Milano cookies
1 cup of baking milk chocolate chips
½ cup of baking white chocolate chips
1 cup of marshmallows
1 cup cream cheese
1 tbsp water
Directions for Chocolate Strawberry Biscuit:
Pour milk chocolate into one heat safe bowl, and white chocolate in another
Put chocolate in solar oven until softly melted.
Take one Milano cookie and dip it into the milk chocolate, then place one halved strawberry on top and drizel on the white chocolate.
Place the cookies in an ice chest until chocolate creates a hardened shell.
Directions for Marshmallow Cream:
Combine marshmallows and water, cook until marshmallows are melted and smooth.
Beat cream cheese in a bowl until soft peaks form. Stir about 3 tablespoons marshmallow mixture, adding more as needed, into whipped cream cheese until desired sweetness is reached.
~Project Log~
3/20/23
Deciding Design of Solar Oven and Menus-
OR, AI, RS, AC, EC
3/21/23
Researched and Discussed Menus and Solar Oven Design-
OR, AI, RS, AC, EC
3/21/23
Put in recipes for drink and appetizer-
OR
3/23/23
Worked on recipes and figure out what box and some ideas we want to use for oven –
OR, AI, RS, AC, EC
3/28/23
Cut out and glued materials for the solar oven –
OR, RS, AI, AC, EC
4/4/23
Put in insulation and reflective panels to the oven –
OR, AI, RS, AC, EC
4/5/23
Worked on website, sticker and apron designs –
RS, OR, AC
4/8/23
Spray painted coolers –
EC
4/10/23
Established final design for aprons and worked on website –
OR, AI, RS, AC, EC
4/11/23
Worked on website (design process)
AI, EC
4/11/23
Put tin foil over big reflectors
OR, AI, RS, AC, EC
4/12/23
Finalized designs for menu and sticker
OR, AI, RS, AC, EC
4/13/23
Put tin foil over big reflectors
AI, RS, AC, EC
4/14/23
Measured for corrects size and helped cut plexiglass-
AI, RS, AC, EC
4/14/23
Put on new larger reflectors onto oven –
OR, AI, RS, AC, EC
4/15/23
Tested oven and recipes –
OR, AI, RS, AC, EC
4/15/23
Filmed design video –
OR, RS, AC
4/16/23
Editing design video and finishing up website –
OR
~Resources/Website Links~
https://lapinkultasolarkitchenrestaurant.com/2020/12/25/simple-homemade-solar-panel-cooker/
http://www.alternative-energy-geek.com/solar-cooker-designs.shtml
https://www.sunshineonmyshoulder.com/american-sun-oven-hottest-sun-oven-market/
Recipes : Fresh From Florida (followfreshfromflorida.com)
What's In Season : Fresh From Florida (followfreshfromflorida.com)
Tomato Basil Bruschetta Recipe – Cookie and Kate
Starbucks Mango Dragonfruit Refresher – The Girl on Bloor
https://www.allrecipes.com/recipe/20487/old-fashioned-lemonade/
Mango Puree Recipe: How to Make Mango Puree Recipe | Homemade Mango Puree Recipe (timesofindia.com)
https://www.tasteofhome.com/recipes/steak-sandwich-kabobs/
https://www.followfreshfromflorida.com/recipes/florida-beef-and-sweet-pepper-skewers
Marshmallow Dip for Strawberries Recipe (allrecipes.com)
Team Members: Areebah I., Averee C., Emma C., Ophelie R., Raven S.
Grade Level: Areebah – 8th, Averee – 8th, Emma – 8th, Ophelie – 8th, Raven – 8th
School: Milwee Middle School