Amery, Kai, and John
Junior Solar Sprint- Blue Division
Hello! Our team is from Cornerstone Learning Community Tallahassee, FL! Our group includes:
Amery Keller, 8th grade, as the head Graphic and Visual Arts Director (2nd year)
John Marty, 8th grade, as the Constructive Mechanical Engineer (1st year)
Kai Okui, 7th grade, as the Logic and Creative Mechanical Designer (1st year)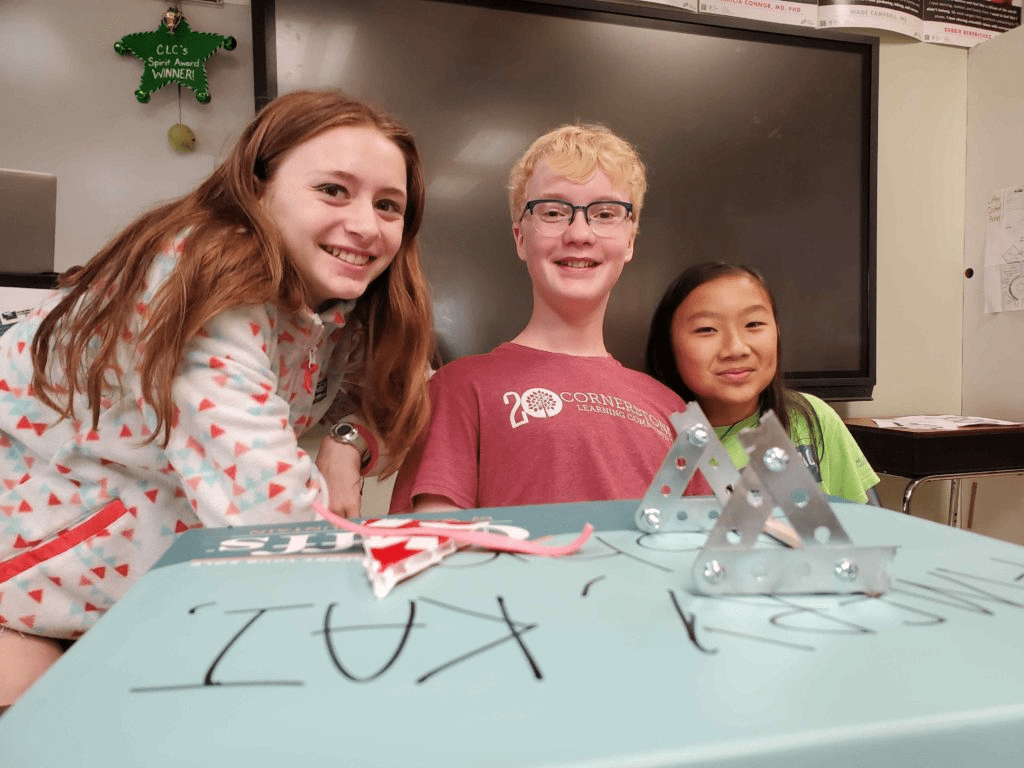 _________________________________
Photo and Basic Info
Our car is inspired by the red African Bush Viper. We designed our car with the red, spiked scales of this specific snake. We used alcohol markers and gold paint to add more highlights to our car. We have a mechanism that allows us to move our solar panel lower or higher depending on the sun's placement in the sky. (The two triangular metal pieces shown above is the prototype version of the final mechanism).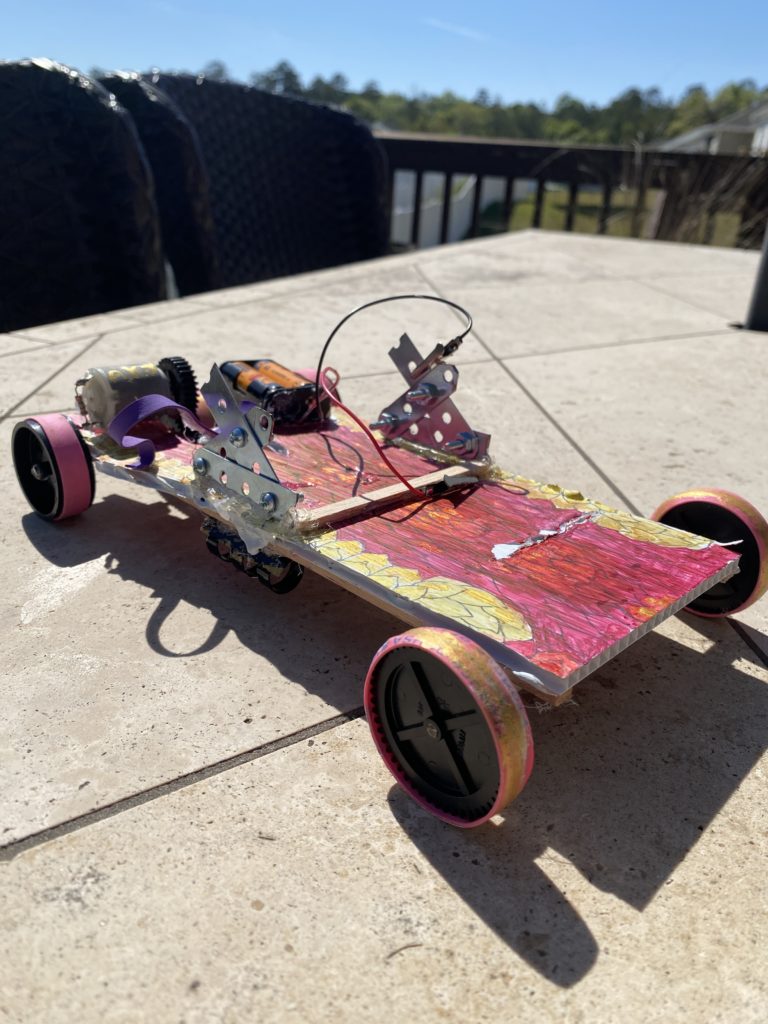 _________________________________
Car Details
Our car has these components:
Wheels x5
Battery Pack x1
Motor x1
Metal pieces x6
Bolts x2 Bolt Nuts x2
Rubber band seatbelt x1
Soloar panel x1
String Spring
rubber band (on the wheels) x5
paint
pizzazz x100%
Measurements:
Length: 25 1/2 cm
Hight: 8 cm
Width: 11 cm
Hight with Solar Panel: 15 cm
Weight: 306.37 g
Gear Ratio: 30:40
Front wheels: 1 1/2 cm
Back wheels: 1 1/2 cm
_________________________________
Car Pictures
Front of car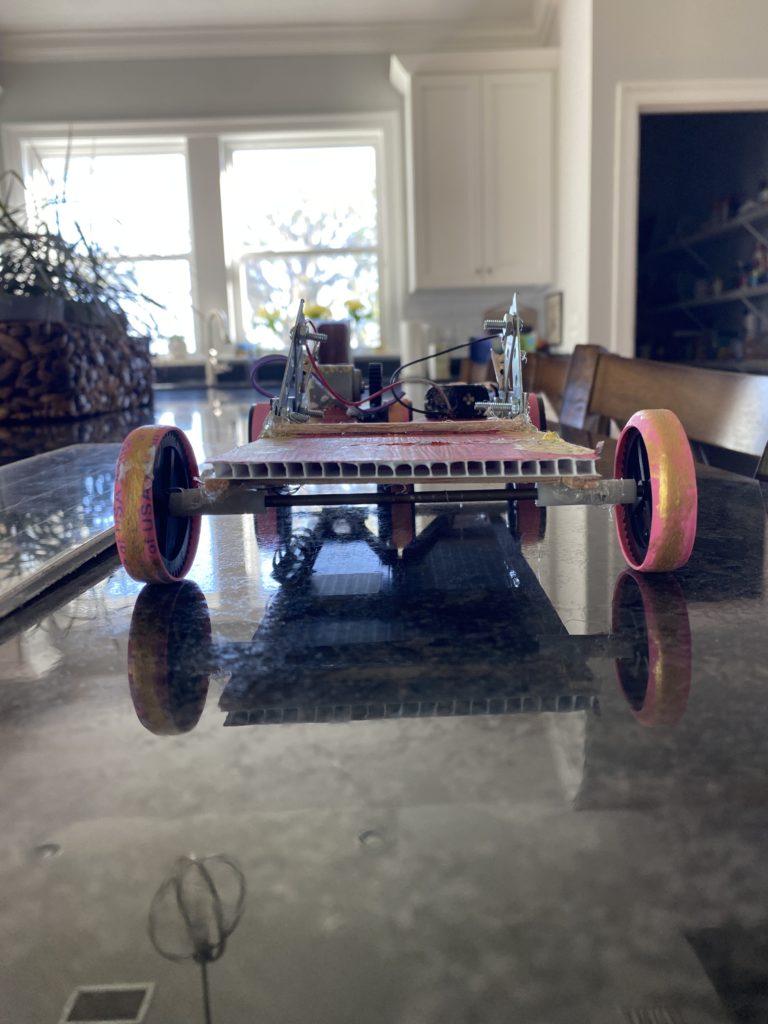 Back of car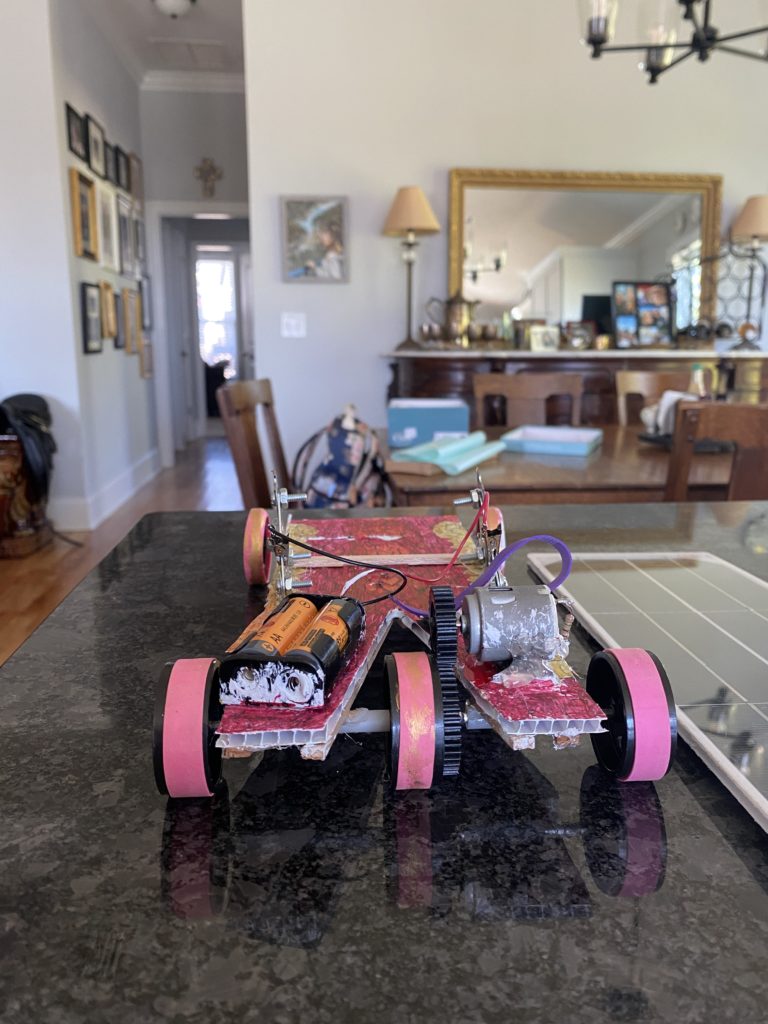 Right of car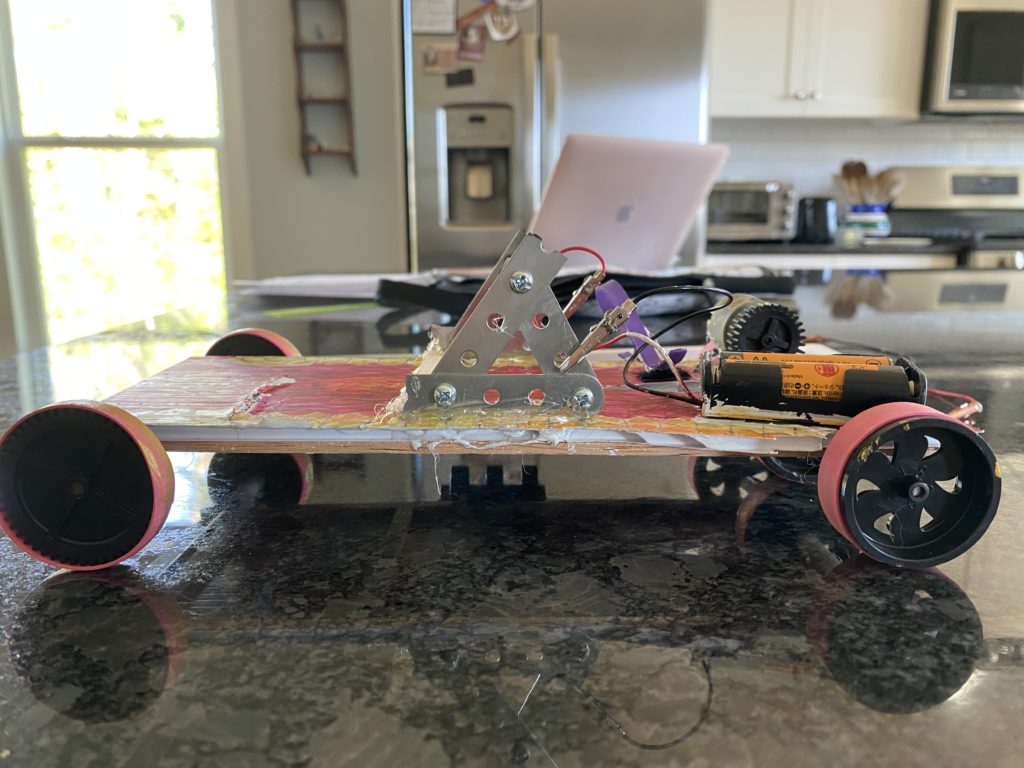 Left of car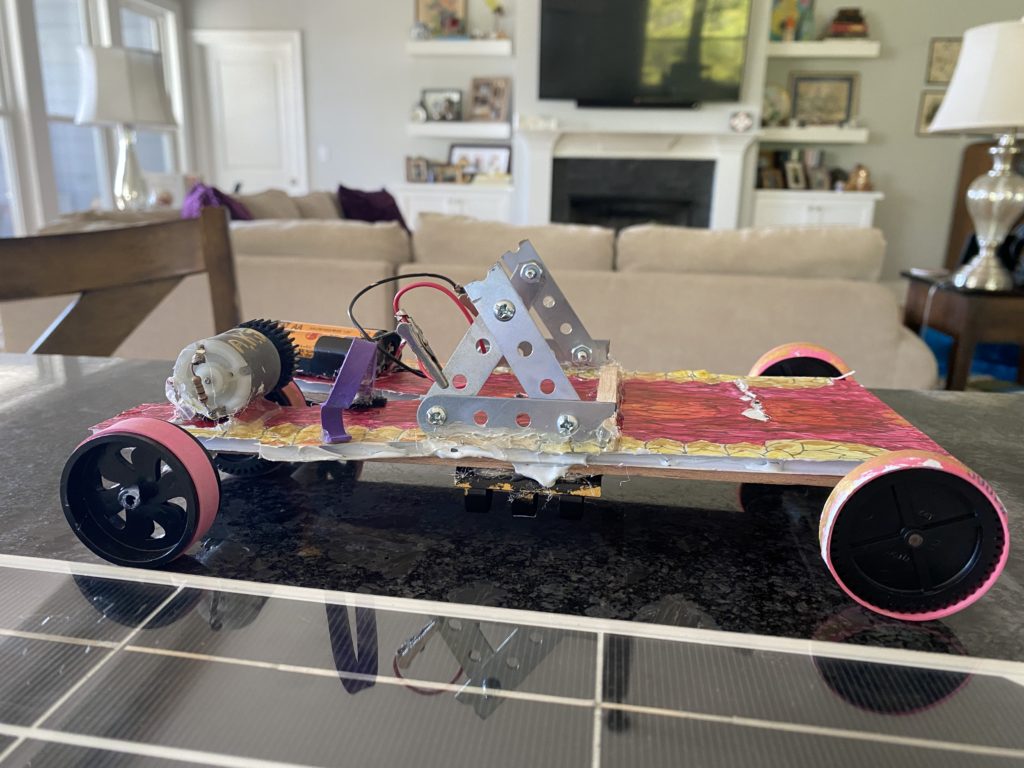 Top of car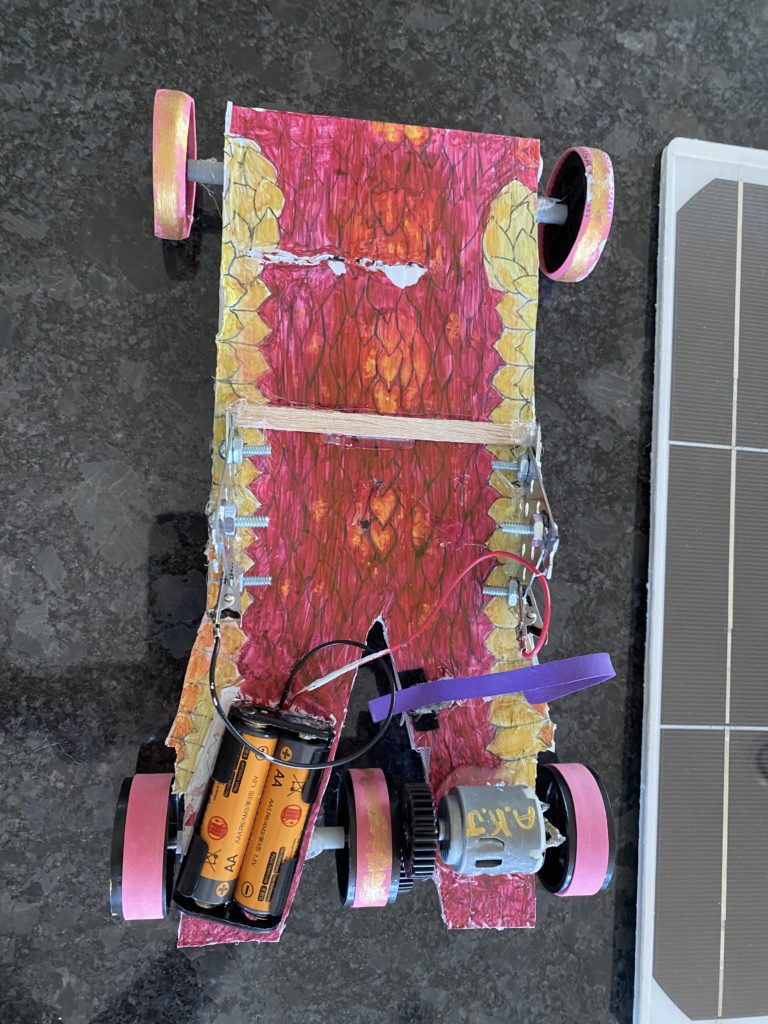 Underbelly of car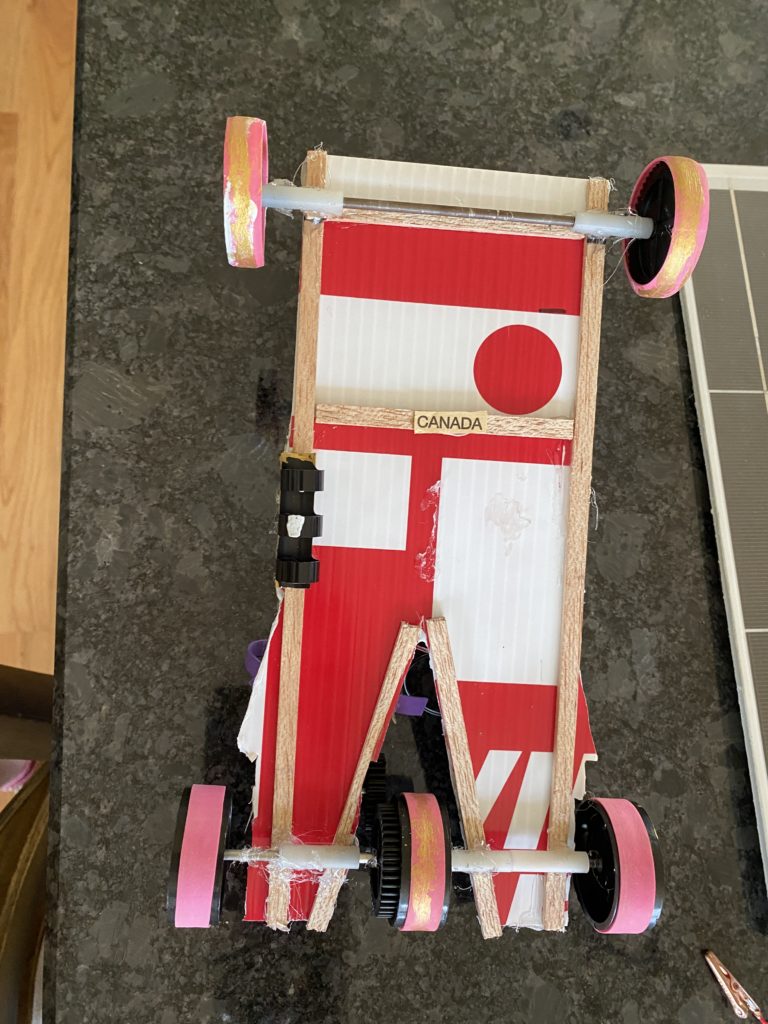 _________________________________
Design Process
Our design process has been a wild one! Here we have the design log for the first 7 weeks for our solar car. Unfortunately, we could only log the first 7 weeks, but we ended up with a finished car that ran well!
| | | |
| --- | --- | --- |
| Date | Time Spent | Activities |
| December 2, 2022 | 1 hour | We came up with the design for the car's frame and chassis. |
| December 16, 2022 | 1 hour | We secured the chassis and built the frame. |
| January 6, 2023 | 1 hour | We used around ideas of the tilting of the solar panel. |
| January 13, 2023 | 1 hour | Added the back wheels and refined the motor position and added "Canada" to the bottom of the car. Irrelevant, but entertaining. |
| January 20, 2023 | 1 hour | We added the battery pack. |
| January 27, 2023 | 1 hour | We finally got around to implementing the tilting of the solar panel. We primed the car for painting with white paint. |
| February 3, 2023 | 1 hour 10 min | We started painting snake scales on the car, with alcohol markers and paint. We ended up finishing today. |
| February 10, 2023 | 1 hour | We had to change our one wheel drive to three, because the drive was too weak. |
The design log for the first 7 weeks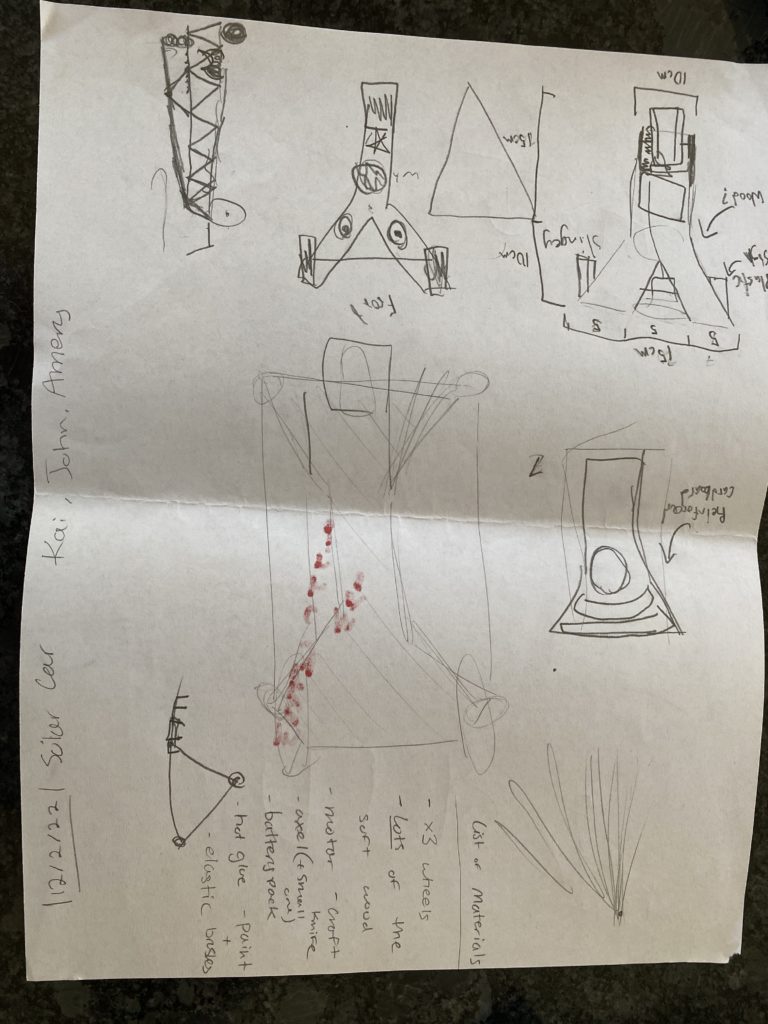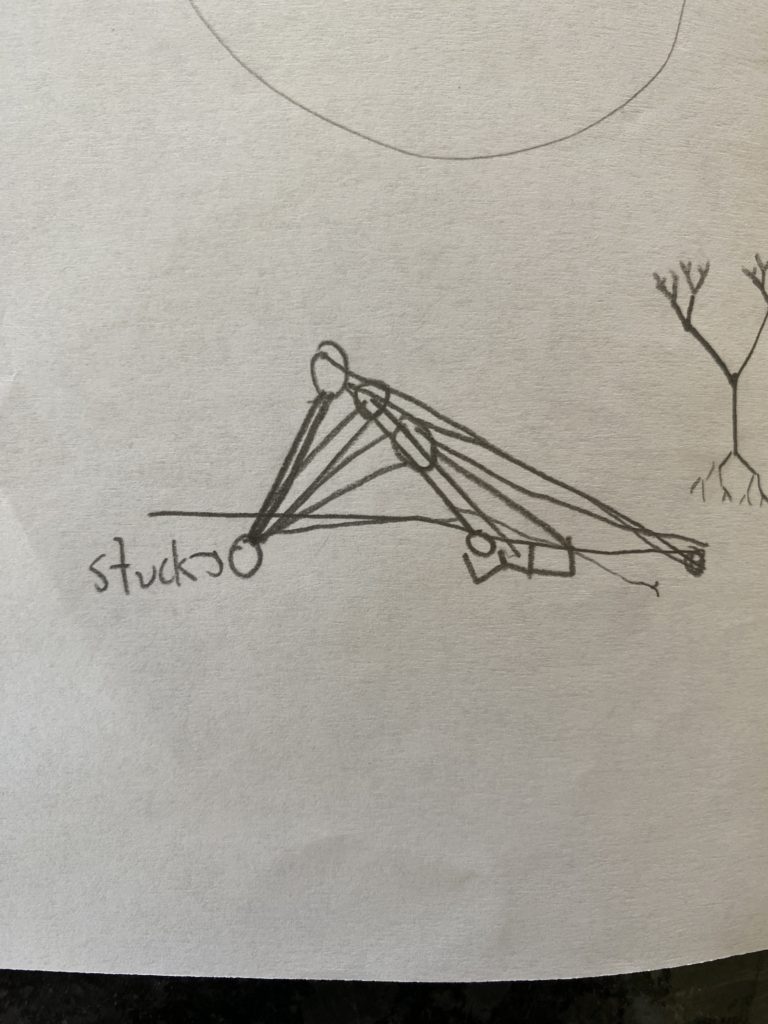 Here we have our transforming drafts for our car concept. We worked one class period on drafting, then we got to work building our frame for our chassis.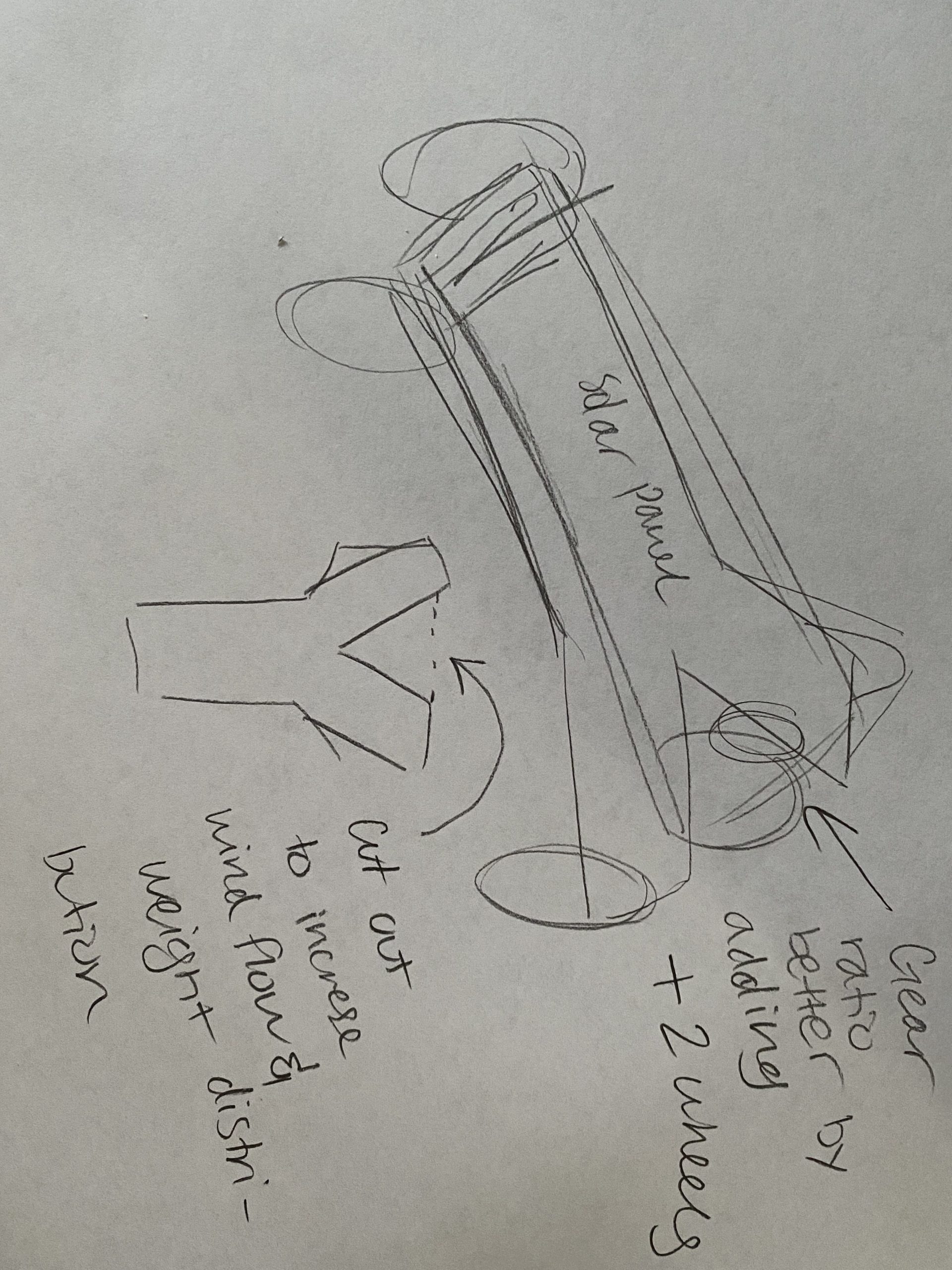 After our sketches were done, we started making our car and designing it.
(Post image of pre-paint car + pictures of process work here)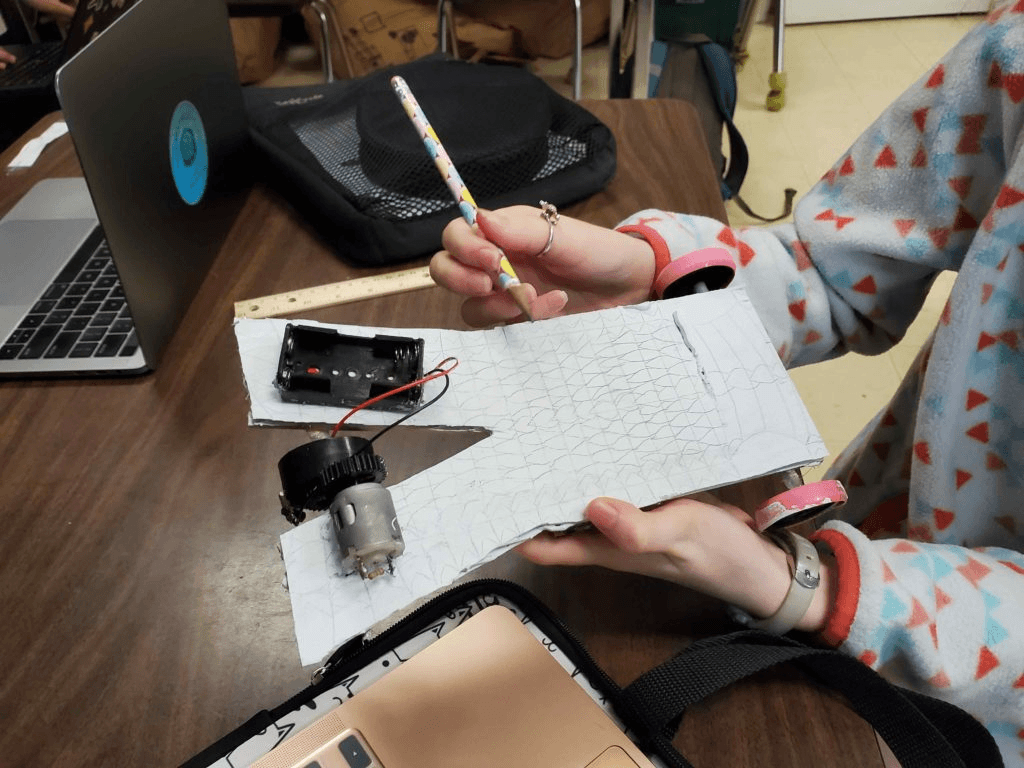 Car Performance Video ________________________
Car Explanation Video
Thank you so much for taking the time to review our website! It means a lot and we are ever so grateful!
-Sincerely, The Vipers