We are a team of fourth and fifth graders from Timber Lakes Elementary School. We have worked very hard on our energy transfer and redesigned seven times. Our original designs are babies compared to our final design and build. We learned a lot about working together, having patience, and of course helping our little Ozobot robots score a strike by using many energy transfers and trials.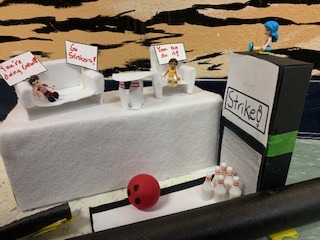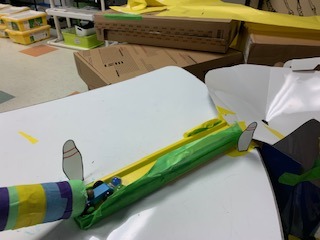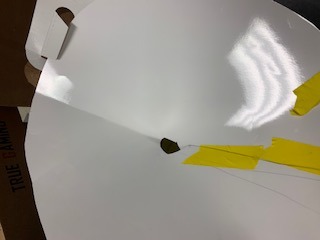 Machine
We worked on an energy transfer machine that is designed to knock over small bowling pins in the most difficult way. Our machine used the following materials: Tin cans, toy bowling pins, wooden block ramps, upcycled cardboard pipes, wooden pulleys, a double vortex made from two upcycled posters, Styrofoam pipes, toilet paper rolls, dominoes, toy cars, Ozobots, and lots of teamwork. Here is a video that explains in more detail about all of the energy transfers that take place in our machine.
Team Members: Jenna L.(grade 4), Abigail B.(grade 4), Ava P.(grade 4), Connor M.(grade 4), Daksha A.(grade 4), Aliza H.(grade 5)
Our energy transfer machine steps completed are:
The Ozobots start down a maze that we coded to challenge them with spins and bursts of speed towards the tin can.
These bots use their combined strength to knock the tin can off of the ledge.
The tin can is attached to a string on a pulley and falls off the edge due to the pushing force of the Ozobots and the pulling forces of the string and gravity.
The pulley system will then pull open a little cup that will bring out marbles, which will have the marbles come down the track and hit car 1.
Car 1 will then go down a short tunnel and hit car 2, which will bring the car forward and hit the marbles.
The marbles will go down the double vortex.
The marbles go down a black foam tube.
The marbles transfer energy to a red foam ball.
The red foam ball will hit the bowling pins.
The pins will crash down into an Ozobot strike.
Use of Electricity Statement:
The Ozobots contain batteries which have stored chemical energy. The energy originates from an electrical source. This happens when our Ozobot bowlers are sleeping and recharging. Once charged up, the electrical energy is transferred to the chemical energy and when we make a very precise code, they will be able to follow our maze to get to the tin can.
Our Strikers Energy Transfer Machine in Action– Will Ozobot score a strike? Watch the video below to see!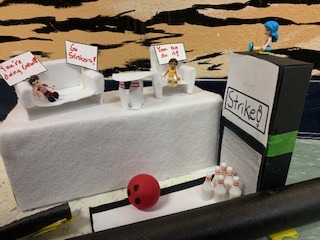 Final Step Statement:
Our final step is to knock down the bowling pins so the Ozobots can score a strike in the most time consuming way. Well done, Ozobots! You used the transfer of energy to score a strike at the end of your long journey. Now you can relax with your fans!