Bay Meadows Elementary
Anushka.S (5th) , Gagana.S (4th) , Anwesha.B (5th) , Gauri.B (5th) , Sudhiksha.PM (5th) , Iris.D (5th)
About Us
Anushka – Studying in 5th grade, Bay Meadows Elementary School
Anwesha- Studying in 5th grade, Bay Meadows Elementary School
Gagana – Studying in 4th grade, Bay Meadows Elementary School
Gauri – Studying in 5th grade, Bay Meadows Elementary School
Iris – Studying in 5th grade, Bay Meadows Elementary School
Sudhiksha – Studying in 5th grade, Bay Meadows Elementary School
Our Animal Choice- Sparrow
The House Sparrow is an extremely widespread little bird. They live in several regions like North, Central, and South America, Eurasia, Africa, and Australia. They often live in cities, parks, suburbs, farms, and other urban areas.
Habitat: They live in forests, meadows, grasslands, deserts, desert edges, woodlands, and the vast majority of their population lives in urban areas.
Interesting Fact: Sparrows bite holes in the bottom of the flower to eat nectar.
Our Team Work
We are the super sparrow squad, we work hard to build a safe heaven for our choice of bird, we selected sparrow as our bird.
S – Shelter
P – Protection
A – Aesthetic
R – Realistic
R – Resourceful
O – Organic
W – Wonderful
Purpose
Sparrows are closely habitant with humans and need an essential touch. They are disappearing because of lack of green space, destruction of nesting sites, rising of concrete towers, cell phone radiation, absence of native plants, pesticide in farms and pollution, and more. The purpose of this project is to make a shelter and give comfort that contains the needs of the sparrows life and without harming the environment.
What we can do
Have an arrangement of seeds which can be available to the sparrows or any birds
Put a bowl of water in your backyard
Hang a birdhouse full of grains on a tree
Reduce global warming
Reduce the usage of a cell phone
Plant more trees
Use pesticides only when necessary
Materials Used
Egg Carton, used as a bird feeder
Scotch brite to make leaves
Paint Brush and Sponge Brush
We first built a tree and bird house where sparrows would be comfortable to live collecting sticks and branches from neighborhoods.
How we Constructed The Tree
We collected some sticks
We wrapped the sticks in yarn to secure them in place
We created a solution of Plaster of Paris and School Glue
We dipped old ripped cloth in the solution and wrapped it around the sticks to create the trunk
We decorated the trunk with paint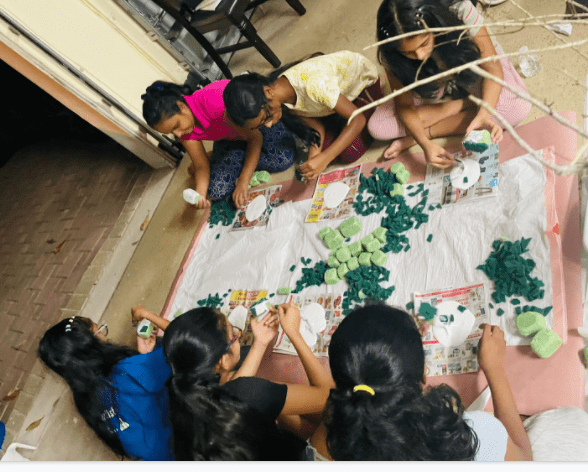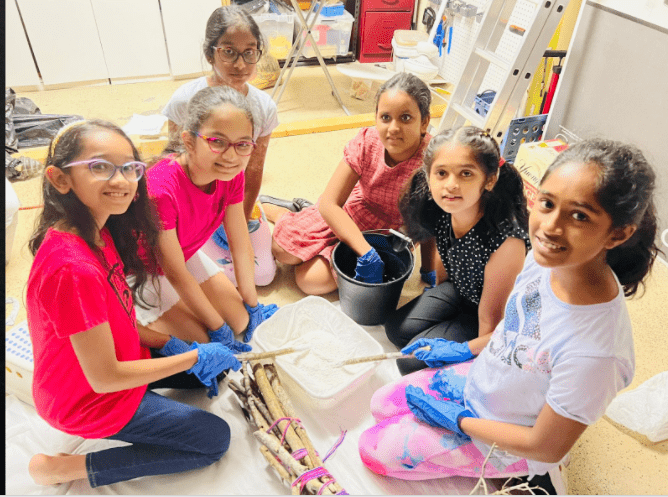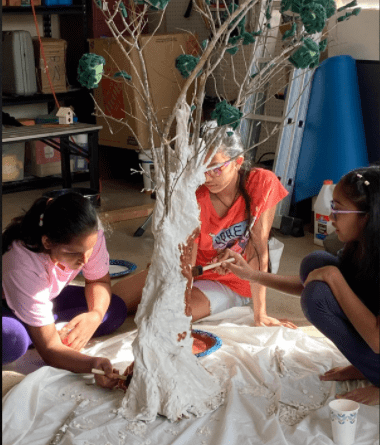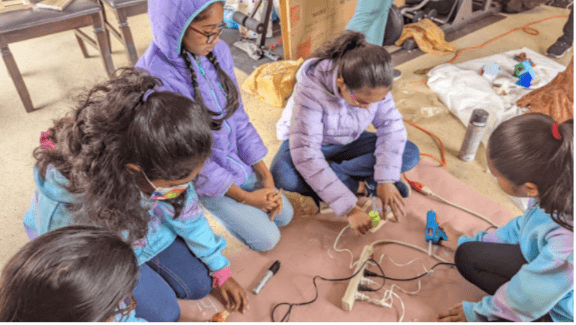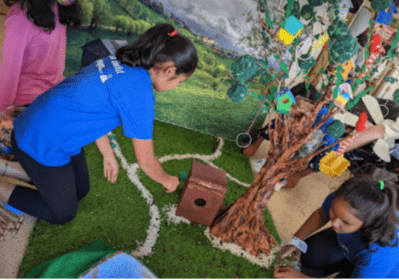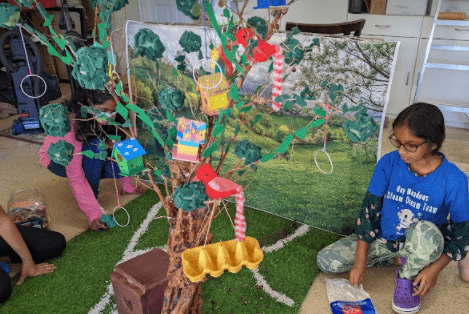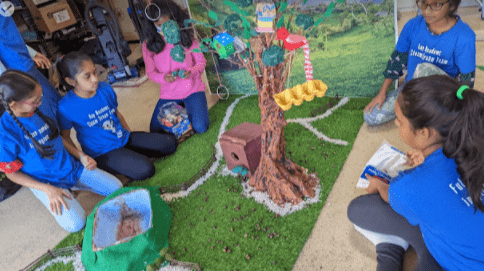 2. Pond with Water Wheel: We have created a self sufficient environment for birds by adding a pond with a water wheel to circulate the water in the pond. Our intention is to create a water circulation cycle which forms a natural habitat for birds, when it rains, water will pours as streams down the hills through our pond, our pond will collect the water and water wheel will help circulate the water, this will keep the area around the bird shelter green with lot of natural growing grass and plants and it will attract bugs for birds to eat. Also humans can provide food in the bird feeder so this will help birds have enough food and water.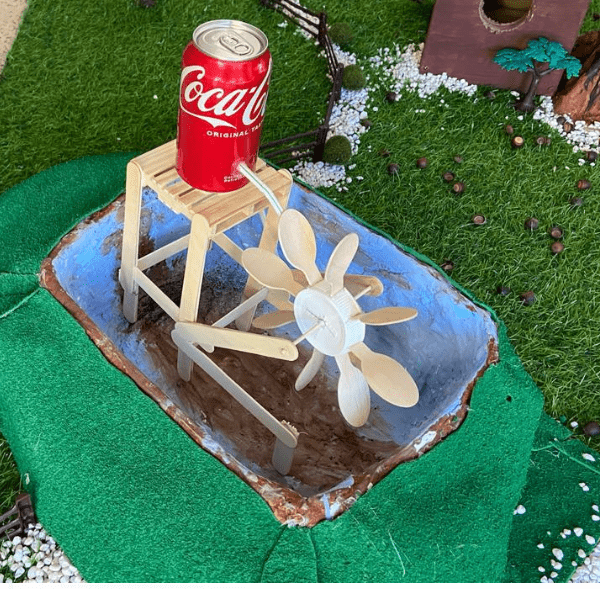 We have added greenery and grass to create the effect of the natural environment. The grass also collects water which attracts bugs. If bugs are in the shelter the birds will still hunt every once in a while, which will not make them completely dependent on people and the bird feeders.
Our Finished Natural Habitat